Sixth Form Admissions 2020
Admission to the Sixth Form is based on satisfactory GCSE results, with the addition of an informal interview for external candidates.
The minimum academic requirement for entry to Princethorpe Sixth Form is six GCSE grades at A*-C (9-5), including at least three grade Bs or equivalent. Under the new numerical grading system, that will equate to three '5's and three '6's. Candidates are normally expected to have at least grade B/6 in the subjects to be studied to A-level, however for Mathematics, Modern Foreign Languages, Latin and the Sciences a grade A/7 at GCSE is required.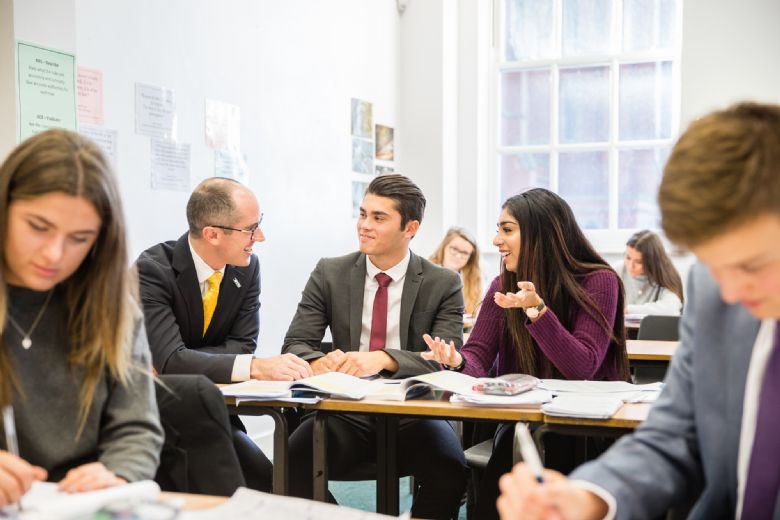 If you wish to begin Economics or Law in Sixth Form, you will be expected to have achieved at least B/6 grades in both Mathematics and English Language. If you wish to study Computer Science at A-level, you must have taken it at GCSE. If you wish to study Psychology at A-level you will need a minimum of a 5 grade in English and Mathematics, plus a B/6 grade is highly recommended in a Science subject (ideally Biology).
Next steps?
If you are already at Princethorpe, the options procedure is explained to you through assemblies, meetings, tutorials and interviews.
If you are not yet at Princethorpe and are thinking of joining us, we would be delighted to welcome you. Please contact the Registrar, Vanessa Rooney and she will talk you through the process initially.
Sixth Form Scholarships and Bursaries

At Sixth Form level there are a range of scholarships available, from Academic to Art, Drama, Music (including Organ) and Sports Scholarships. All scholarships are open to internal and external candidates.
The deadline for applications for Sixth Form Scholarships has yet to be confirmed for 2020 entry, however more information on the individual scholarships, requirements and the relevant process is outlined on our Sixth Form Scholarships and Bursaries page.
For more information on Sixth Form Scholarships please call our Registrar, Mrs Vanessa Rooney, on 01926 634201 who will be pleased to talk you through the process.
Sixth Form Open Evening - Wednesday 16 October 2019 - 6.30pm to 9.00pm
We would encourage all prospective Sixth Formers and their parents to join us for our Sixth Form Open Evening on Wednesday 16 October 2019.
The evening aims to give an overview of life in the Sixth Form. Staff and students are on hand in the departments to talk through A-level subject choices and you will be given a copy of our Sixth Form Admissions 2020 Information Booklet, which will include a timetable for the admissions process and decision making. Light refreshments will be available.
sixth form taster days
We will be offering specific Sixth Form Taster Days on two dates in December 2019 and January 2020.
To register your interest in a Sixth Form Taster Day please email admissions@princethorpe.co.uk. The days will run from 9.15am to 5.00pm and are an informal opportunity for a small group of prospective Sixth Formers to visit the College for a selection of A-level subject taster lessons, a Q&A session with current Sixth Formers, lunch, a tour of school and a chance to meet the Headmaster and Head of Sixth Form.
If you then decide to join us for your Sixth Form studies, you should complete a registration form and select your options provisionally, as our own Year 11 pupils do.