Careers Fair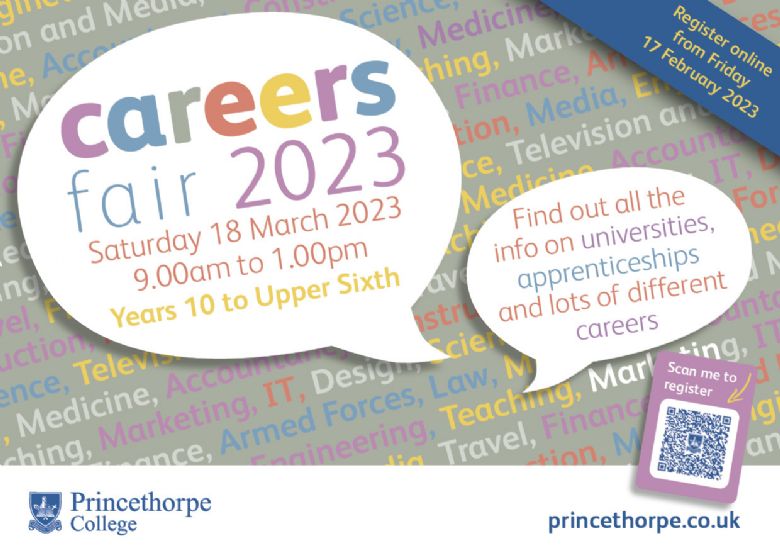 The Careers Fair will take place on Saturday 18 March from 9.10am to 1.00pm and will provide a wealth of information, guidance and advice on careers and universities.
OP Felicity Hannah, a financial journalist, currently presenting Radio 4's Money Box and the Green Money Show on Radio 5 Live, will give two keynote addresses over the course of the morning and in addition to three career/university speaker sessions, attendees will also be able to visit the Exhibition part of the Fair in the Sixth Form Centre. Light refreshments will be available.
Pupils in Years 10 to Sixth Form should register from Friday 17 February and select the three sessions they would like to attend, plus a reserve choice. To help with your decision making you should refer to the Advice For Choosing Talks here and Speakers Biographies and Talk Topics here. We would like pupils and students to be accompanied by a parent or parents to the event, so conversations can continue afterwards.
Once you are ready to register click the link below to complete the online booking form. The deadline for registering is Wednesday 1 March 2023. You will receive a personalised timetable upon arrival on the day.
REGISTER FOR THE 2023 CAREERS FAIR CLICK HERE
| Time | Session |
| --- | --- |
| 8.30am - 9.00am | Registration in The Limes for parents and pupils |
| 9.10am - 9.40am | Session 1 |
| | Walk |
| 9.55am - 10.25am | Session 2 - including Keynote |
| | Walk |
| 10.35am - 11.05am | Session 3 |
| | Walk |
| 11.20am - 11.50am | Session 4 - including Keynote |
| | Walk |
| 12.00pm - 12.30pm | Session 5 |
| 12.30pm - 1.00pm | Exhibition remains open |
A wide range of speakers and organisations will be on hand to offer advice and guidance on careers, universities and apprenticeships. We have representatives from organisations as diverse as the Police and Armed Forces to Price Waterhouse Coopers, Lotus Cars and J P Morgan giving presentations, and universities from across the country, such as Cardiff, Sheffield, Plymouth and nearer to home Warwick, with stalls in the exhibition part of the Fair. Light refreshments will be available.
Comments, Head of Careers, Jacqui Quinney, "The event will be a unique experience and will enable our pupils and students to gain a real insight into the work of work and further study, thus helping them prepare for important decisions that they will need to make over the next few years at Princethorpe and beyond".