Pastoral Care
Pastoral care is seen as paramount at Princethorpe and is very much a tangible expression of our strong Catholic ethos. Our team of professionals, headed up by the Deputy Head – Pastoral, provide a network to help support and encourage all our pupils.
The team is broad reaching and includes the House Form Tutors and Co-Tutors, Heads of House, Matrons, our Counsellors, the Chaplaincy Team and our Student Support Officer.
The main premise of our pastoral care is that every child really does matter and that if that child is happy, healthy and safe, he or she will learn most effectively. The Pastoral Team work together or in various combinations as appropriate to fulfil and respond to pupils' needs. When problems arise, the College is proactive and swift to take action, working in close partnership with parents to tackle any issues and if necessary agree action plans.
A key element of our pastoral care is the weekly confidential Pastoral Briefing to staff when issues
affecting pupils can be drawn to their attention and guidance be given. The College has a very strong sense of community and above and beyond the professional help available, there is also much mutual support offered to pupils by their friends and fellow pupils.
"Finding the right secondary school was something I was worried about for many years but as soon as we found Princethorpe my worries disappeared, I honestly didn't think it was possible to find such a caring, attentive school that really put the pupils' happiness before anything else."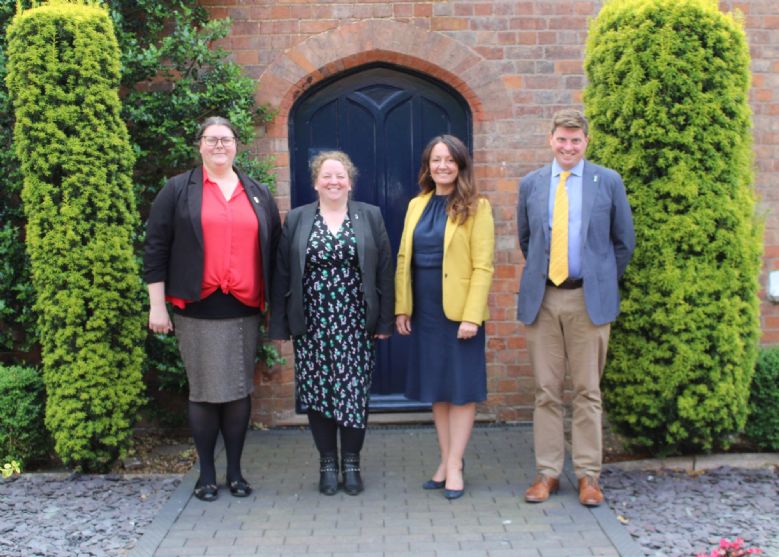 The House System
The House System at Princethorpe is an integral part of College life underpinning our community ethos and pastoral care. Each pupil is put in a House when entering the College and joins a Vertical House Tutor Group.
Austin, Benet, Fisher and More are the four Houses at Princethorpe, named after the Catholic Saints. The houses are led by our Heads of House: Adam Rickart (Austin), Faye Roberts (Benet), Louisa Fielding (Fisher) and Jessica Newborough (More).
the house form tutors
The House Form Tutor and Co-Tutor are the pupils' and parents' first port of call and will generally be able to answer any queries or resolve any problems. If necessary they will escalate problems to the Head of House or Deputy Head – Pastoral. Pupils spend at least 20 minutes with their House Tutor Group most mornings and this is an ideal time for any pastoral matters to be dealt with.
the student support officer
This role provides all our pupils with a point of contact that is available before school, at break and lunchtime and after school to help with problems such as lost property, lockers, attendance issues, rewards cashing in, and
administration such as trip letters etc. This ensures that there is always someone available and if the Student Support Officer cannot deal with the problem she will know who can, and pass it on immediately.
personal, social and health education
The College's Pastoral Care Programme is designed to support the moral, spiritual and cultural development of the child, as well as addressing issues on diversity, health, relationship and sex education and studying citizenship. This is delivered via the REAL programme and through assemblies often featuring external speakers. Pupils will have
a timetabled REAL time lesson when this programme is delivered either vertically or by Year Group.
the medical centre
The College also benefits from having a full time Matron on site in the Medical Centre to administer advice and medicines to pupils and to offer basic first aid when required.
counselling services
We have two qualified Counsellors on the staff. Pupils who are experiencing difficulties can be referred to the Counsellors for a series of appointments. This has been welcomed by pupils who appreciate being able to talk to
an adult who is neither a parent nor a teacher.
chaplaincy team
In addition, our Chaplaincy Co-ordinator offers sessions on prayer and meditation, provides sacramental preparation and runs workshops and retreat days for pupils to explore the spiritual aspects of life.
outdoor education
Outdoor Education also has a high profile within pastoral care. Experience has shown us that when pupils learn to work together as a team outside the classroom, this greatly benefits and accelerates learning inside the
classroom. In addition to the well-established Duke of Edinburgh Scheme, a wide variety of outdoor education experiences such as 'World Challenge' and 'Camps International' overseas expeditions are offered.
character education and learning skills
We believe that having a vision, making a habit of effort, building effective systems, engaging in high stakes
ractice and having the correct attitude can be practised and learned. During tutor time, pupils engage in planned VESPA activities which explicitly focus on developing these non-cognitive skills. We take character education as seriously as we take academic education and work hard to ensure our pupils are given time to develop their intellectual and performance virtues in a practical way to enable them to flourish as individuals.