Final Bolts Tightened On New Science Centre Steelwork This Week
06 Jul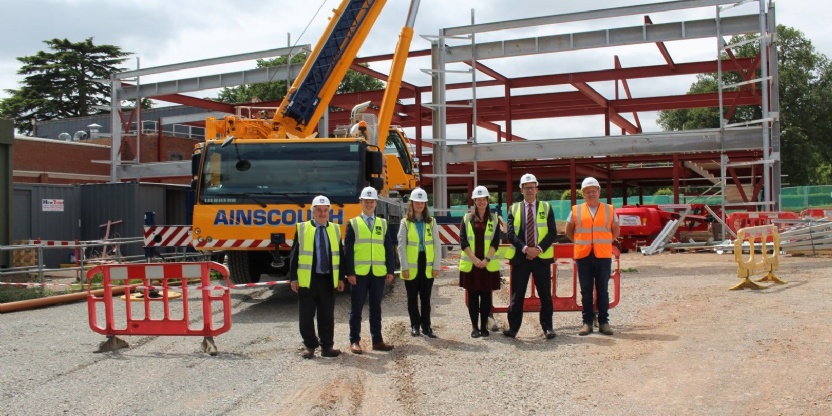 The final bolts have been tightened on the College's new Science Centre steelwork, the first floor beams are all in place and the ground floor beams are being laid.
Last week, Headmaster, Ed Hester, visited the Science Centre construction site for his first official tour of the new building. He was accompanied by Trendgrey Construction MD, Nick Henderson, Princethorpe's Project Manager, Foundation Assistant Head, Alex Darkes, along with, Head of Science, Emma Cooper, and two Sixth Form Science Subject Ambassadors, Hannah Lawrence and Tom Dodsley.
The Princethorpe contingent could clearly see the structure of the new Science Centre rising triumphantly at the north end of The Limes. The size and scope of the building evident to them all. It was also possible to see where most of the rooms and circulation areas will be and how the building will link to The Limes.
Ed Hester, commented, "It was fantastic to be able to visit the site as the final stages of the steel work were being completed. Whilst we can see the new building progressing, to be able to get close up to the new structure and see how the drawings and plans are becoming a reality was exciting. I am amazed by the progress over the last few weeks. It is good to recognise the hard work and expertise that has brought us to this point."
Significant progress has been made with the project since work started back in mid-February. It will be exciting for us all to see how much further the project has progressed when we return to school in September.