Fifteen Medals For Princethorpe At The ISA National Athletics Championships
15 Jun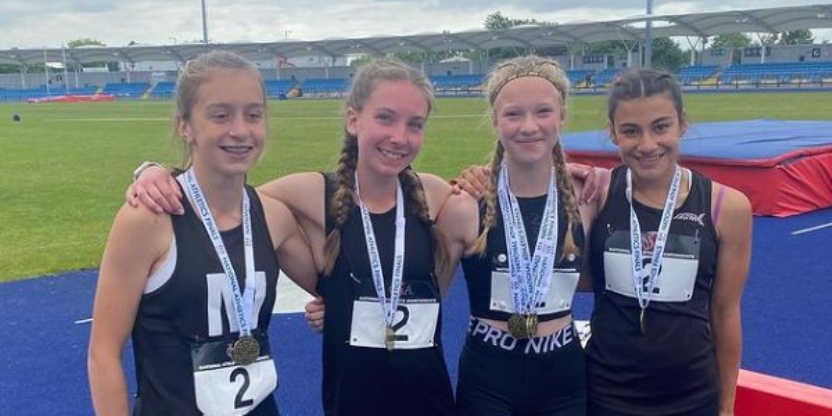 Princethorpe is celebrating after bringing home a haul of fifteen medals from the Independent Schools Association's (ISA) National Track and Field Athletics Championships.
The Nationals took place on Monday 13 June at the Manchester Regional Arena. Princethorpe took a team of 17 athletes to the event; the pupils had all qualified for the Nationals at the Regional Championships earlier in the season. For all the athletes this was an excellent opportunity to compete against high calibre opposition at a pre-eminent event.
Princethorpe's medal haul included five Gold medals. Olivia Monk stormed down the track to win both the Year 8/9 100m and 200m Sprints in explosive times of 12.72 and 26.66 seconds respectively. Then Grace McCollin won the Year 8/9 75m Hurdles finishing in a super time of 12.07 seconds, with Oscar Civzelis taking the Year 8/9 300m Sprint in a fantastic 41.59 seconds. The College's Year 8/9 Girls' Relay team also won the 4x100m Relay competition running a stunning time of 52.25 seconds.
Claiming a Silver medal were Ben Smith who ran the Year 10/11 Boys 100m Hurdles in 16.98 seconds and Anjola Okusanya who completed the Year 10/11 Boys 100m Sprint in 11.99 seconds; Anjola took a second Silver running for the Midlands team in the 4x100m relay as well. Then Penelope Jones leapt a super 4.97 metres to claim Silver in the Year 8/9 Long Jump and William Smith took Silver in the Year 7 1500m.
Freddie Knott won himself two Bronze medals running the Year 8/9 80m Hurdles in 13.60 seconds and jumping 10.25 metres in the Year 8/9 Boys Triple Jump. Kate Pomerleau also won a Bronze medal in the Year 10/11 1500m completing the course in 5.08.81 minutes while Martina Grace matched that result taking a Bronze in the Year 8/9 1500m in 5.08.81 minutes. Louis Reynolds also took a Bronze in the Year 7 Boys Javelin.
Foundation Director of Sport, Lee Cassell, was delighted commenting, "A huge well done to all of our athletes for an excellent performance. They responded so well to the top-class competition they faced. Their tenacity, determination, good humour and genuine camaraderie made for a fantastic experience for the whole team, congratulations to all who competed in this outstanding competition."