Gorgeous Sunshine Greets OPs For Bluebells And Brunch
18 May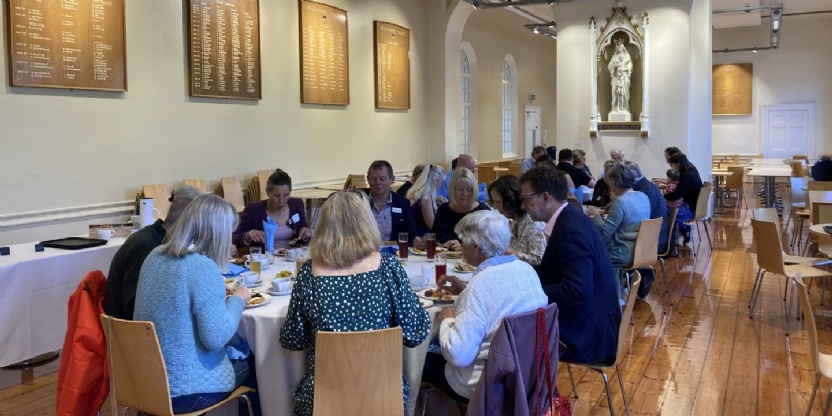 Gorgeous sunshine greeted attendees of our OPs Bluebells and Brunch event on Saturday 14 May. The occasion attracted a lovely mix of OPs, former staff and former parents from the late 70s to the early 2020s.
The group happily mingled in the Refectory over coffee and tea and after a warm welcome from Headmaster, Ed Hester, sat down together for a delicious brunch.
Our catering team put on a super spread as ever, with a Full English on offer, plus fruit salad and pastries to round off the meal. With appetites well and truly satisfied there was the option to walk off brunch with a tour of the College and a wander around the Mile Walk to see the bluebells.

Visitors enjoyed seeing the College's heritage locations including the Chapel, Quad, Library, Cloister Corridors and the Chemistry Lab, before moving onto newer additions, the Sixth Form Centre (set up for public exams) and the Limes. They even got a sneak preview of how work is progressing on the new Science Centre, which is due to open in 2023, before viewing the Orchard, Astroturf and Playing Fields.

The party enjoyed a leisurely stroll up and round the leafy Mile Walk, taking in the view of the College from the top of Switzerland, before descending to the Sixth Form Lawn and the end of their tour.

Comments, Melanie Butler, OPs Secretary, "It was a lovely, relaxed event and so good to see all our alumni groups enjoying each other's company, sharing their memories and appreciating Princethorpe in the sunshine. It was particularly lovely to have generations of families attending, including our youngest visitor at just one-years-old. It's definitely never too early to enjoy a visit to Princethorpe!"

Our next OPs event is the Summer Supper Reunion on Friday 24 June, which is already nearly fully booked, to find out more visit Princethorpe Connect.