Donors Enjoy Hidden Princethorpe Two
24 May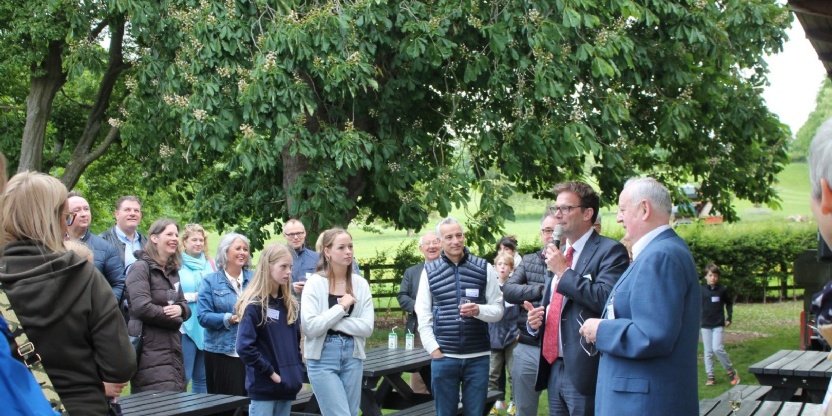 On Friday 20 May, the Development Team hosted a very successful second Hidden Princethorpe event. Organised especially for those who support the work of the Development Office, Hidden Princethorpe Two offered an exclusive behind the scenes tour of the College campus.
The College was especially delighted to welcome back as guest of honour, long-serving and much loved teacher, former Head of Junior School, Sean Philpott, who spoke to the attendees of his time at the College, from 1978 to 2012.
The event included the unique opportunity to climb the Princethorpe Tower and our visitors all enjoyed winding their way up the spiral stone staircase to take in the stunning views over the parapets at the top.
Their tour started in the Quad where, with photos of the past, the history of what was once St Mary's Priory was recounted. Guests then went on down to Front of House to see the limit of the enclosed area and the visitor's Guest House, before going back past the Round House and the Mortuary Chapel to G4 to hear an explanation of what an enclosed order was and what life was like behind the door with the grille. Then it was outside to the site of the old swimming pool, by the Orchard Wall, on into the Orchard itself to see the alcoves that statues once adorned and then up to the playing field above Switzerland where the girls used to play hockey. Next was Switzerland itself to see the pond, an oasis for wildlife, and to hear the history of its creation. Then on around the Mile Walk, the path of many a cross country run, before descending to view the ruins of the Gas Works and take a peek into the Nuns' cemetery.
After all that exploring, the evening was finished with a BBQ and plenty of convivial chat. Foundation Assistant Head, Alex Darkes, commented, "Our Hidden Princethorpe events are a unique opportunity to gain an insight into the history and inner workings of the College, and we were delighted that our latest guests were all fascinated by the evening's tours, talks and anecdotes. We are very grateful for their continued support of the Development Office."
For more information on the work of the Development Office, please email the team at makingadifference@princethorpe.co.uk.