Old Princethorpians Presented With Duke Of Edinburgh Gold Award At Buckingham Palace
24 May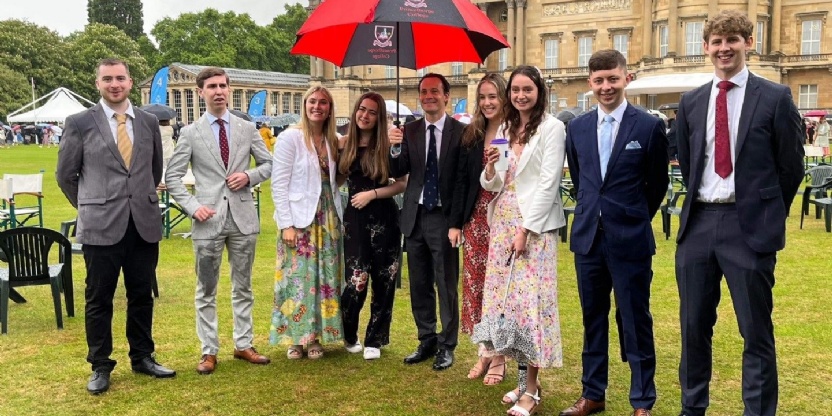 On Friday 20 May, twelve Old Princethorpians, were invited to Buckingham Palace in London to be presented with their Duke of Edinburgh's Gold Award.
In the first award ceremony since the pandemic thousands of young people gathered at Buckingham Palace to celebrate their achievement. Weather was true to form but walking through the gates of Buckingham Palace and into the gardens to be met by music from The RAF Squadronaires and The Band of the Coldstream Guards, the rain was soon forgotten at the joyful festival-style celebration.
His Royal Highness The Earl of Wessex, a Gold Award achiever himself, congratulated all those that had completed this challenging award, commending them on overcoming the many obstacles that they had encountered over the past two years. He reminded them that many of the skills they had acquired would remain with them for life.
Lira Lewis, an Ambassador for the DofE, spoke of the many challenges she battled every day and shared how the experiences and lessons she gained from completing the Gold Duke of Edinburgh's Award had helped her build her confidence, shape her attitude, and succeed in her goals.
Hannah Cockcroft OBE, and Paralympian, spoke of how the Award had led to her career. She talked of the many challenges she had faced as a Paralympic athlete and the extra challenges of training for the Tokyo Olympics; her message was strong and clear, never give up.
Speeches over, the guests were left to enjoy the truly magnificent gardens and in true British style, a cup of tea and cake. As the guests left the Palace and looked back up The Mall with the Union Jacks lining the route, there was a sense that the sore feet and camping in the rain in Snowdonia National Park might just have been worth it.
Head of Outdoor Education, Will Bower, who attended the event, was very proud, commenting, "Completing your Gold Duke of Edinburgh takes real commitment and resolve, and the skills developed along the way benefit both the individual and their local community. All of these young people showed dedication and perseverance and their final expedition to Buckingham Palace while wet, was a really wonderful reward."
Receiving their Duke of Edinburgh's Gold Award this time were: Freya Barnett, Leah Dunkley, James Fletcher, Will Hedderwick, Alys Hemmings, Anthony Lock, Sion Murphy, Issy Simpson, Katie Shorten, Cara Wallis, Louise Way and Jake Wilson.
We look forward to news of further awards presentations for those OPs who were unable to collect their awards this time due to university exams.