A Very Warm Welcome To Fernham For The VSOPs
06 May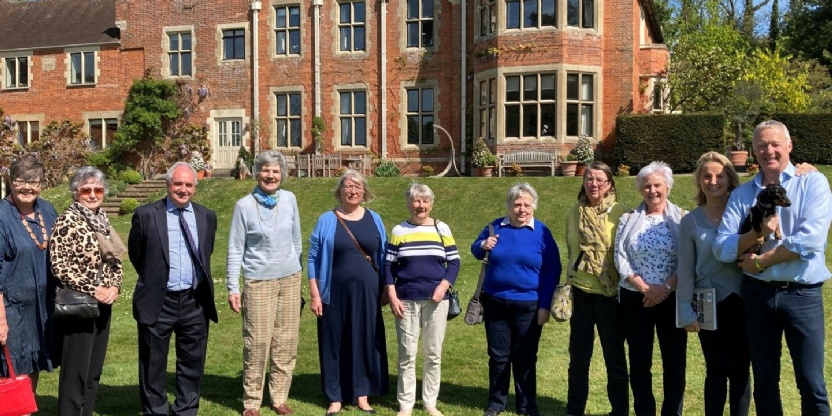 A small group of former St Mary's Priory Old Girls, or VSOPs as we like to call them, received a very warm welcome when they visited the former convent of the Benedictine nuns in Fernham, over the recent Bank Holiday weekend.
The community of 33 nuns, led by Mère Benedict, moved to Fernham in 1966 after they sold the estate at Princethorpe to the MSCs for £160,000. Over the years they extended the property to include a Chapel and additional nuns' cells, but as the property became too large for their needs, the decision came to sell the property and around 2003 the remaining sisters joined various other communities, including Minster Abbey in Ramsgate, Benedictine Abbey in Chester, Oulton Abbey in Staffordshire and Boarbank Hall in Cumbria. We are delighted to keep in touch with Srs Mary Bernard OSB, Mary Catherine OSB, Mary Lucy OSB and Mary Stephen OSB.
The house, still named St Mary's Priory, has undergone significant changes since the nuns were in residence and is now the family home of well-known impressionist Rory Bremner and his talented sculptor wife, Tessa Campbell Fraser. The Bremners could not have been more welcoming and friendly and were delighted to show the group around the grounds, the nuns' graveyard (where 24 of the nuns are buried) and inside their beautiful property.
With its private setting and wonderful views over the Vale of the White Horse, the party, some of whom had visited during the nuns' tenure, could easily understand why the house had appealed so much to the community all those years ago and what a wrench it must have been when the time came to leave.
Over coffee and cake outside in the sunshine, the group who had been taught by the nuns during the 50s and 60s, reminisced about their experiences and swapped stories with the Bremners, whose current postman used to deliver to the nuns.
After thank yous and farewells, the visit organised by Foundation Assistant Head, Alex Darkes, was rounded off with a delicious pub lunch nearby.
The party comprised, Biddy Allen (whose father, Princethorpe home farm bailiff, Lewis Baines had helped the nuns find the property and moved them in 1966), sisters Mary Holgate and Liz Hughes, Marianne Horne, Judy Povey and Mary Wheildon. Supported by Loretta Curtis (Princethorpe), Alex Darkes (Princethorpe) and Melanie Butler (Old Princethorpians Secretary, Princethorpe).
Comments Alex Darkes, "This was very much something of a highlight for me. Meeting our VSOPs from the days of St Mary's Priory always enables us to add more pieces to the Princethorpe jig-saw puzzle. These past pupils hold very dear the Princethorpe ethos and friendships as we do and this was a marvellous opportunity to enjoy a reunion with the wonderful hospitality of the Bremners, in a house which is still central to the Princethorpe story."