Science Centre Steels To Be Supplied By Warwick Steel
06 May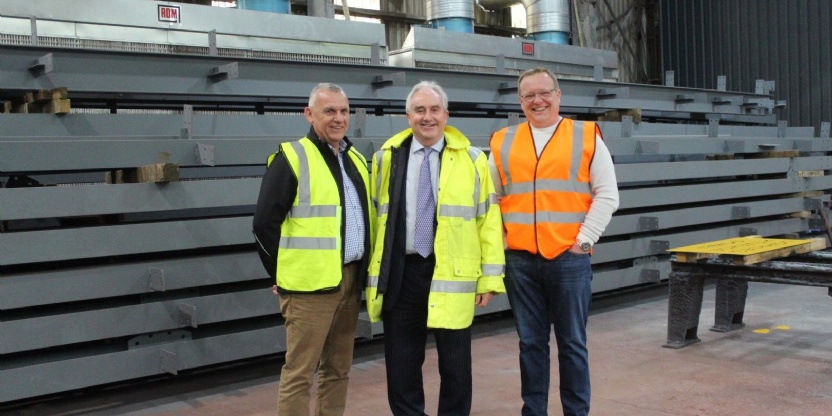 Foundation Assistant Head, Alex Darkes and Trendgrey MD, Nick Henderson, visited Warwick Steel in Deppers Bridge near Southam on Wednesday 4 May to see the fabrication of the steel frames for the College's new Science Centre. There they met MD Tony Langford and Martin Furniss, Contracts Manager, who works alongside Tony.
Warwick Steel has been established for 30 years and Tony Langford, who has had a lifetime in steel, spends most of his days in the workshop involved with the fabrication process. Both Tony and Martin are no strangers to Princethorpe, having provided the steel structure to several parts of our buildings including the Sixth Form Centre which was opened in 2007.
Warwick Steel is now located at The Grange Works at Deppers Bridge, where it has recently re-located, as HS2 will go through their former workshop in Southam. They pride themselves on being the preferred suppliers for some of the largest blue-chip companies, including many in the motor industry.
During the visit, Alex and Nick were given a tour of the company's three workshops that include a main fabrication area where colossal I-section beams of up to 18 metres in length are cut down to size using a giant electric twin pillar bandsaw, after which they may be additionally drilled or have take-off points and fixings welded to them using oxy-acetylene. They saw the vast flatbed, computer-controlled, plasma cutter able to accurately cut flat materials up to 5cm in thickness and drilling, bending and guillotine machines which were all on hand. They also visited the paint shop, in between the cutting and fabrication shops, where the finished structures are painted – usually either red or grey.
The steels for Princethorpe's Science Centre, most of which have been sourced from western Europe, are just over 100 tonnes. Formed from precise cross-sections, to defined standards, the steels will provide a durable, strong and flexible frame for the new building. They will take four flat-bed loads to deliver from the factory to the Princethorpe site.
Alex Darkes said, "Significant progress has been made on the construction project since the preparatory earthworks began back in late February, and it was good to be able to visit Warwick Steel today to see the process of the steels being made. Whilst we can see the new building progressing, it's the installation of the steels that will really show that the new building is becoming a reality. Thanks to all the staff at Warwick Steel and to Nick Henderson, MD of Trendgrey, for organising this fascinating visit. We're delighted that another part of the contract will benefit the local economy and also cut down on fuel miles. I am really looking forward to seeing the steels all bolted into place."
Nick Henderson of Trendgrey, the lead contractor for the project, added, "We are pleased with the progress we're making with the Science Centre. Getting the steel framework in place is always a significant milestone in delivering a new building. So we are looking forward to seeing Tony and his team on site soon at Princethorpe erecting the steelwork for the project."