Two College Sixth Formers Are Singing Superstars
01 Feb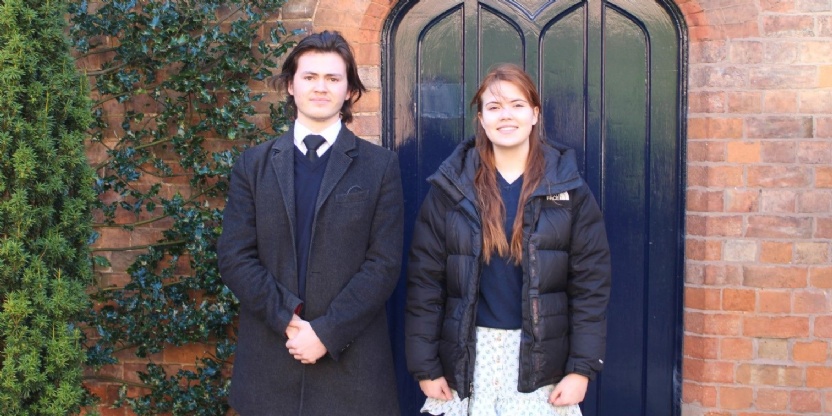 Two Princethorpe Sixth Form students are celebrating after achieving exceptional marks in their Trinity College of Music examinations.
Greg Burford and Robyn Field, who both took up singing just last year, and who both played starring roles in the College's production of Jesus Christ Superstar, have been awarded a Distinction in their Grade 8 singing exam.
Greg and Robyn sang four pieces each from a set syllabus and were also judged on technical exercises and their presentation and focus. Both delivered accomplished performances in front of the examiner and achieved impressive results. Marked out of 100, Greg scored 95 while Robyn was awarded 90, a superb achievement for these talented young singers.
Greg performed Du Bist Die Reh by Schubert, Take, O Take These Lips Away by Dring, De Son Coeur J'ai Calme De Fievre by Thomas and If I were A Rich Man by Bock. His examiner's report included the comments: 'This was an outstanding performance. Characterization was captivating, and there was complete accuracy and control' and 'Stylistic communication was outstanding, and the performance was delivered with passion.'
Robyn sang Poor Wand'ring One by Sullivan, Art Is Calling For Me by Herbert, Dear Delight by Head and Stizzoso, Mio Stizzoso by Pergolesi. Her examiner commented: 'There was an impressive display of technique in fitting with the essence of the song' and 'This was a convincing rendition, and characterization was impressive.'
Peripatetic singing teacher, Joanna Kunda, commented, "Congratulations to Robyn and Greg for achieving a Distinction in their Grade 8 singing exam. These results are particularly remarkable, considering that both Robyn and Greg have never taken a singing exam before. Their hard work, together with their outstanding musicality, was rewarded with very high marks and extremely positive comments on their reports. I am proud of them both and wish them further successes in future."
Director of Music, Gil Cowlishaw, who played for the students in their examinations, added, "For Robyn and Greg to receive such super results at such a high standard is an absolutely staggering achievement and one they should both be very proud of. We always encourage our students to aim high and they certainly did. They have taken part in many school productions and have always been a pleasure to work with. I am confident they will go on to great things."
Both students are planning to carry on with their singing, Greg will be studying music at the University of Cambridge after completing his A-levels while Robyn plans to join a local operatic society and continue her performing there. Their performances have delighted us all over the years and wherever their music takes them we wish them both well!