Four Sixth Form Students Awarded LAMDA Grade 8 Gold Medals
24 Jan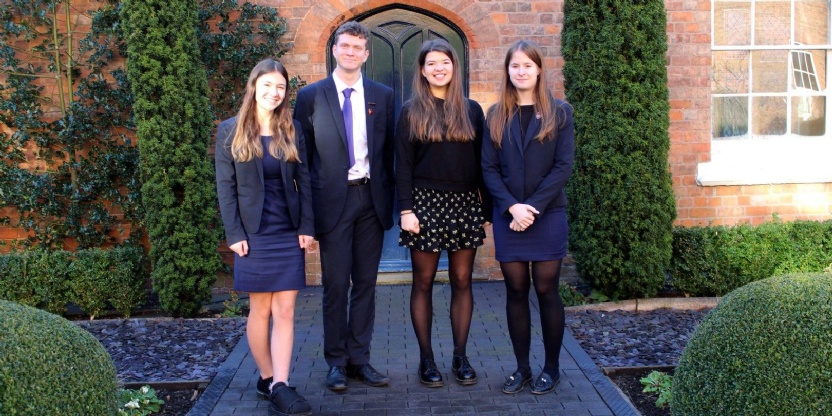 Congratulations to Olivia Ward, Ciaran Smith, Ishbel Kempton and Elsie Kelley who have all been awarded a distinction in their London Academy of Music and Dramatic Art (LAMDA) Grade 8 Gold Medal examinations.
Gold is the highest medal awarded by LAMDA and will have taken years of training to achieve. The four Sixth Formers took their LAMDA Gold medal examinations back in November, at school, and just before Christmas they received news of their success. Achieving their LAMDA Gold Medal examinations means that all four students have now also accrued 30 UCAS points towards their university applications.
Olivia Ward took LAMDA Speaking in Public Grade 8, for which she had to write and present two speeches. She gave an in-depth analysis of the pros and cons of electoral reform in her first speech, and for her second she gave an imagined 'Best Woman' speech for her brother's wedding. She had to write an impromptu speech in the exam and deliver it with only fifteen minutes preparation time. The examiner praised Olivia's ability to present stimulating and well considered work.
Ciaran Smith impressed the examiner by performing with 'real confidence, control and a mature understanding of texts' during his Reading for Performance Grade 8 exam. Ciaran created a recital on the theme of 'Democracy' using texts from The Hand that Signed the Paper by Dylan Thomas, Henry V by William Shakespeare and 1984 by George Orwell. He wrote introductions and linking statements to all his chosen texts and answered questions on the writers and contexts in depth.
Ishbel Kempton and Elsie Kelley have been taking acting exams together for several years and were delighted to complete their studies in their Grade 8 Acting Duologue exam. They performed scenes from Antigone by Sophocles, The Odd Couple (Female Version) by Neil Simon and The Thrill of Love by Amanda Whittington. The examiner noted a 'clear energy' and 'strong presence' in their performances, and they completed their exam with a discussion on their chosen theatre practitioner, Constantin Stanislavski.
Lead LAMDA Teacher, Kathy Buckingham-Underhill, commented, "I am delighted to see these four young people completing their LAMDA studies on such a high. Congratulations to them all. Their hard work, diligence, ownership and understanding of the tasks involved has been amply rewarded. Their LAMDA teachers are proud of them all."
A huge well done to all four students on a really impressive achievement.