Bumper Number Of Candidates Sit College Entrance Examinations
09 Nov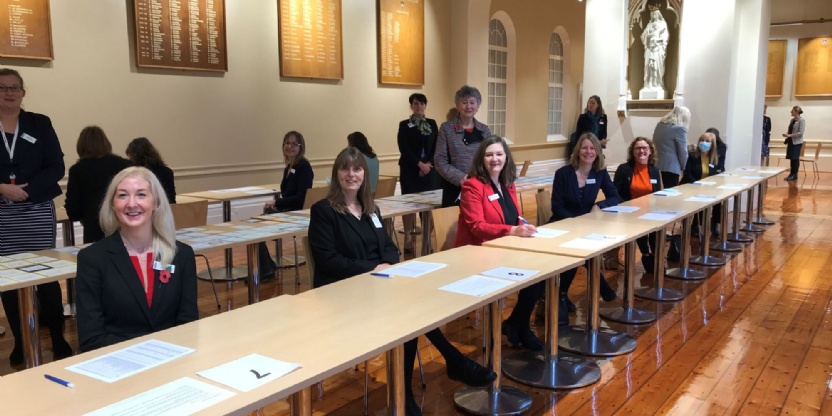 It was all systems go on Saturday 6 November as Princethorpe welcomed some 280 children to take the Entrance Examinations for September 2022 entry. Seamless organisation made the day run smoothly with candidates being efficiently organised into colour coded groups for their busy day.
Headmaster, Ed Hester and our team of friendly receptionists welcomed girls, boys and parents before members of staff and Sixth Formers ushered the prospective pupils to their respective 'base camp' classrooms.
Papers were sat in English, Maths and Free Writing alongside an online CEM test of verbal, non-verbal and numerical reasoning.
With regular comfort breaks (involving Princethorpe's legendary cookies of course), as well as a hot meal provided in the middle of the day, the prospective pupils were well supported at every stage.
Comments, Melanie Butler, Assistant Head - Marketing, Admissions and Communications, "We played host to some 280 prospective pupils across four year groups making this one of our largest exam sessions. Feedback from parents and candidates alike has been very favourable indeed, which bodes very well for next year's intake."
"The marking machine swung into action, even before candidates had left the building on the Saturday, and the Admissions Panel sat this week to decide on who will be offered places to join us in September."
Over the next few days the top achieving academic and all-rounder scholars are being invited back to interview with Ed Hester, the Headmaster or Neil McCollin, Assistant Head - Co-Curricular.
Results will be posted, first class on Thursday 25 November. The deadline for acceptances is Monday 13 December 2021 for Year 8 to 10 places and Thursday 3 March 2022 for Year 7 places.
Our thanks go to all the Sixth Formers and staff who helped in the run up to the exams, on the day and, last but by no means least, all those who helped mark the papers so efficiently.