Sixth Formers Take On The House Ready Steady Cook Challenge
16 Sep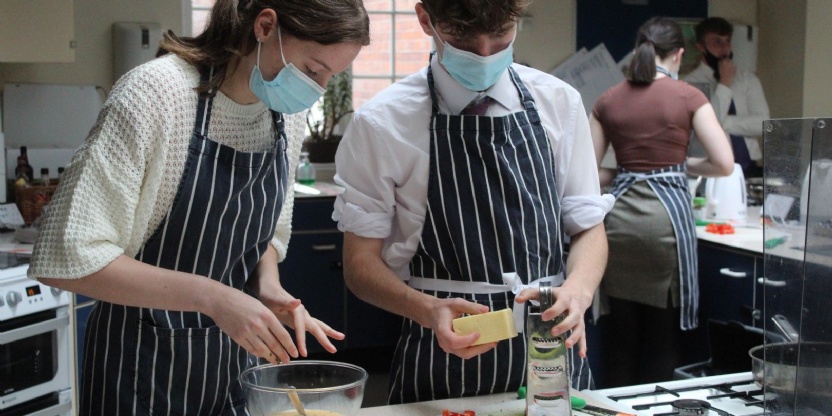 Princethorpe's Sixth Form students put their culinary skills under the spotlight in the College's latest inter-house competition, Ready Steady Cook.
What was once prime time television, Ready Steady Cook, is always a popular inter-house competition. Held this year on Thursday 16 September, teams of Sixth Formers enthusiastically took part in what proved to be a hotly contested challenge, preparing that student staple, an omelette, in the Food Technology suite.
The students were presented with a set of ingredients and challenged to produce an omelette in just 20 minutes. What's more they had to cook, clean and tidy their workstation before presenting their dish. The plates of food were judged on four criteria - taste, texture, appearance and creativity.
The kitchen was a hive of activity with knives chopping, spoons stirring and pans sizzling as the House teams went to work. Onlookers encouraged from the side as the judges, Ed Hester, Lisa Reay and Amanda McKenzie surveyed the proceedings.
The finished plates of food were lined up along the table and, under the watchful eyes of the competitors and their supporters, the judges carefully taste-tested the dishes.
House Activities Co-ordinator, Jessica Newborough heaped praised upon the students who so quickly and slickly delivered a mouth-watering, plate of food.
The results were close with just a few points separating all the Houses. This year first place went to Fisher, closely followed by Austin and Benet in joint second place and then More.
Huge thanks to all of the competitors for their enthusiastic efforts, to our judges who clearly enjoyed the bonanza of free food and to the House teams for organising and supporting the event.