Telethon Success Sees Princethorpe Reconnect With Hundreds Of OPs
04 May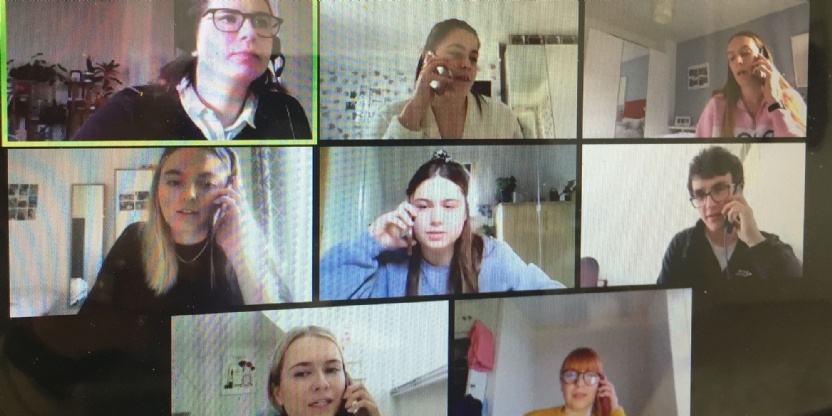 During the Easter holidays Princethorpe College undertook its first-ever telethon, aimed at getting back in touch with Old Princethorpians and former parents of the College to catch-up, update them on our news and ensure we can stay in touch in the future.
A team of 13 recent leavers from 2015 to 2020 totalled nearly 700 hours of conversations with nearly 600 alumni and former parents being spoken to during the two weeks of the campaign.
The telethon was undertaken remotely with the call team doing their work either at home or university – from Glasgow to Bristol and supported by colleagues from Buffalo Fundraising Consultants.
Our callers were told many stories of years past from the 1960s onwards and also enjoyed catching up with more recent leavers and hearing how many of them are getting on at university or work.
The College would like to extend its thanks to all who participated in the campaign – especially our wonderful call team of recent leavers, as well as those from the Princethorpe community who took the time to give us their thoughts and feedback.
Michael Gucluer (OP 2018), who was part of the call team, said:
"The telephone campaign has been challenging but also really useful for developing interpersonal skills. It's been great working from home and being able to engage with Old Princethorpians, many of which I was friendly with at school or had an indirect affiliation with. Miki from Buffalo was brilliant - keeping us entertained and always being available to answer any questions and for her inclusive attitude in virtual calls.
"A particularly funny moment was an Old Princethorpians' story of antics in Austria where a group of them were berated by the fathers for nearly missing the flight home!"
Esme Down (OP 2019), who was also on the call team, added:
"I've really enjoyed doing the telethon campaign. It has been wonderful to chat to so many different people and to hear that the caring ethos of Princethorpe has been prominent throughout its history.
"People I've spoken to have such fond memories of the school and still feel a great affinity with it. It's been especially interesting for me to chat to Old Princethorpians who have gone on to work in the scientific and medical fields. It's been a privilege to be able to give back to Princethorpe and show my appreciation for my time there."