Awesome Austin Celebrates Victory In The Hotly Contested House Cup
07 May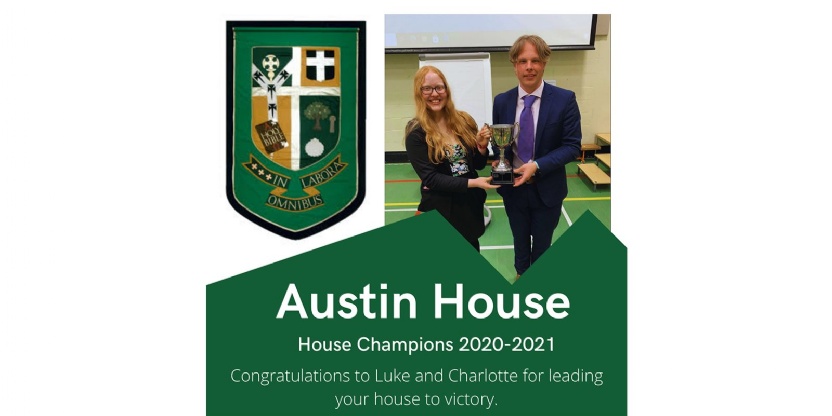 Austin House is celebrating after winning the most hotly contested competition in school, the House Cup. Their victory was announced at the end of last week in the Prefect Inauguration ceremony by House Activities Leader, Jess Newborough.
The House Cup was presented to the outgoing Austin House Captains, Luke Brotherton and Charlotte Fitzpatrick, as jubilant Austin pupils watched and cheered from their classrooms across the school.
Before announcing the result, Mrs Newborough spoke of the challenges of the last year, her delight at how Princethorpe pupils had responded and the camaraderie and sense of community that the House activities had provided across the year but especially during all the lockdowns - from the very first Tuesday challenge, the Blinding Lights TikTok style dance videos, through all the virtual competitions, activities as diverse as the Toilet Roll challenge, the VE Day Flag competition, the Land's End to John O'Groats race, the week of Olympic challenges, the Bookshelf challenge to the hugely popular Masked Reader quiz. Over the year all the regular weekly fun of the Friday quizzes had continued and some House events went virtual such as the House Talent Show. In between lockdowns there were even a few events that managed to take place in person including the European Day Of Languages quiz and the Easter Egg challenge.
Across the year it was a steady and consistent performance that helped Austin pupils amass their huge total of points and finish first across the line but well done to all pupils across the school who participated in all the events so enthusiastically. The final results this year were: 1st Austin, 2nd More, 3rd Fisher and 4th Benet.
Huge thanks also to all the House team, including the House Activities Co-ordinators and House Captains for all they do to organise and run House events.