Stateside Virtual Reunion A Very Convivial Affair
01 Mar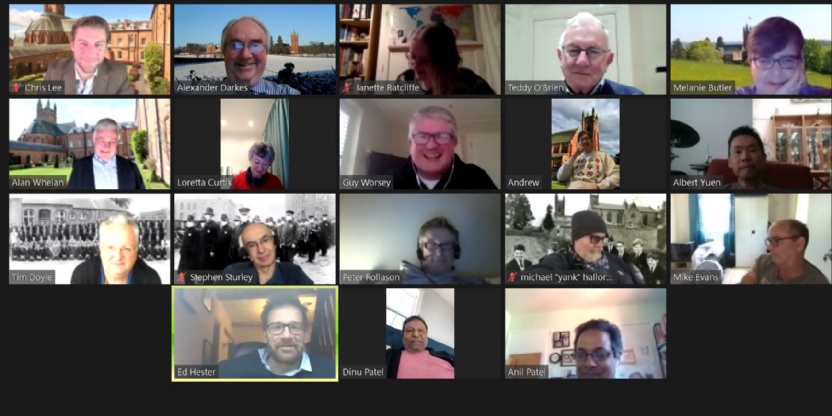 On Saturday 27 February the Old Princethorpians and Development Office hosted their first ever OPs in the Americas Virtual Reunion bringing together former pupils now located in the United States and North America and it proved to be a very convivial affair.
The Stateside OPs were joined by a contingent from the UK including Princethorpe College Headmaster Ed Hester, former Headmaster Father Alan Whelan MSC, former Director of Boarders Father Teddy O'Brien MSC, lifelong Princethorpian and teacher Alex Darkes and the Chair of the Old Princethorpian Committee Peter Rollason.
The virtual reunion included a Blessing, a virtual tour of the school and a fascinating chance to delve into the Princethorpe archives. It also included plenty of time for former pupils to swap stories, share photos, reminisce and to renew their connections with each other and their former school.
We were joined by OPs from across North America from as far afield as California, Minneapolis, Nevada, New York, Illinois, Washington, Ontario and Barbados as well as the school staff team. The Old Princethorpians excitedly shared their news and caught up – telling of their lasting friendships from their time at school.
The former pupils had mainly attended the College during the seventies and eighties and with many having boarded there were plenty of memories of lively escapades to recount including one particularly tricky Chemistry homework incident where the boys were hauled before Headmaster, Father Clarkson expecting to be punished severely only to receive a masterclass in Chemistry to help them finish their work.
Foundation Archivist, Jannette Ratcliffe was especially delighted to see so many new photographs and hear so many stories about life as a boarder, and our thanks go to all the attendees who so willingly filled in the gaps.
Melanie Butler, Old Princethorpians' Secretary said, "The virtual reunion was a wonderful chance for us to reconnect with our many Stateside OPs and bring them up to date with events at the College. It was a very enjoyable evening, afternoon or morning depending on where you were! We are very much hoping to organise a proper reunion in the States post the pandemic and would encourage any America-based OPs from across the generations to get back in touch so that we can keep you informed of our plans."
Recordings of the reunion including the virtual tour and archive presentation are available to view please email oldprincethorpians@princethorpe.co.uk and we will send you a link.
It was wonderful to reconnect with all our friends across the pond and if anyone is still in touch with former pupils Richard Burke, Mickey Hindley and Alistair Rumbold (at Princethorpe in the seventies) and Paul Brennan (who attended in the late eighties) then they have some old friends Stateside who would very much like to get back in touch.