Record Numbers Of Pupils Embrace The Challenge Of The Duke Of Edinburgh's Awards
17 Dec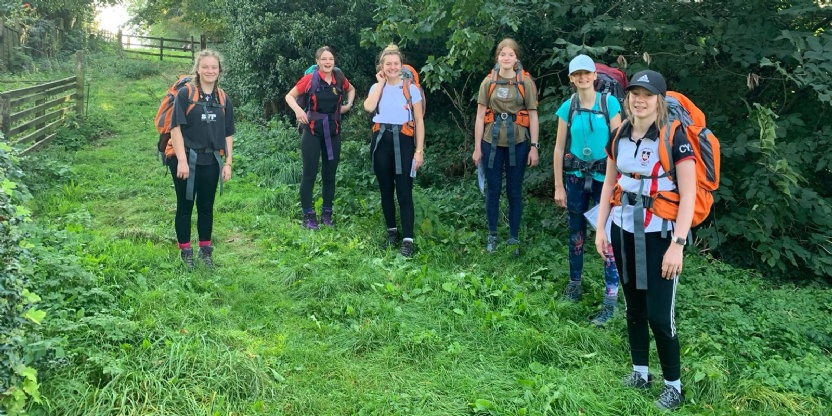 Despite all the challenges Covid-19 has presented this year, pupils at Princethorpe College have continued to participate in and successfully progress their Duke of Edinburgh's Awards.
Utilising the DofE temporary programme changes and expedition flexibilities, the College has adapted its DofE co-curricular programme to support pupils to complete their awards.
As we come to the end of the year we are delighted to share the news that from last year's cohort of entrants some 70 pupils have already managed to sign off their Bronze awards. An amazing achievement when you consider all of the restrictions they have had to take on board.
Back in July the Bronze Award participants took part in training walks, in small groups close to the school. Then in September, 100 pupils completed a two-day qualifying expedition, covering 30km walking a loop from Princethorpe down to Long Itchington and back. Although they were not allowed to camp overnight, they did still have to carry their packs and cook for themselves.
In the October half term, 53 Year 11 pupils completed their training expeditions in the South Cotswolds, travelling down each day, they walked from Chipping Norton, through Bourton on the Water to Stow on the Wold. Many of these pupils have already completed their Physical, Skill and Volunteering sections so they now just need to complete their Qualifying expedition, which is planned for the spring.
20 Upper Sixth students joined an open training expedition in the October Half Term taking part in a three day walk. They completed a large circuit of Derwent Water in the Lake District. Their qualifying expedition will now take place next summer.
The Duke of Edinburgh's Awards are recognised as the world's leading youth achievement award. They provide young people with the opportunity to get involved, explore new interests, discover talents and make new friends.
Will Bower, Head of Outdoor Education, commented, "Record numbers of Princethorpe pupils continue to embrace the challenge of the Duke of Edinburgh's Award. They take the opportunity to develop skills and try new experiences, pushing themselves both mentally and physically to be the best they can be. This year our pupils have had to show extra initiative, adaptability and great organisation to keep on working towards their awards. We are delighted with their commitment and enthusiasm, and very proud that so many have progressed so far. In fact, we have already matched the number who had completed the scheme at this point in the cycle last year. Huge thanks to the 30 staff and external instructors who have helped and supported them with their awards this year."
Well done to all of the pupils who have taken part in the Duke of Edinburgh's Award this past year and good luck to the 225 pupils who have signed up to participate in the programme this coming year.