College Prize Giving Celebrates Pupils' Exceptional Achievements
23 Nov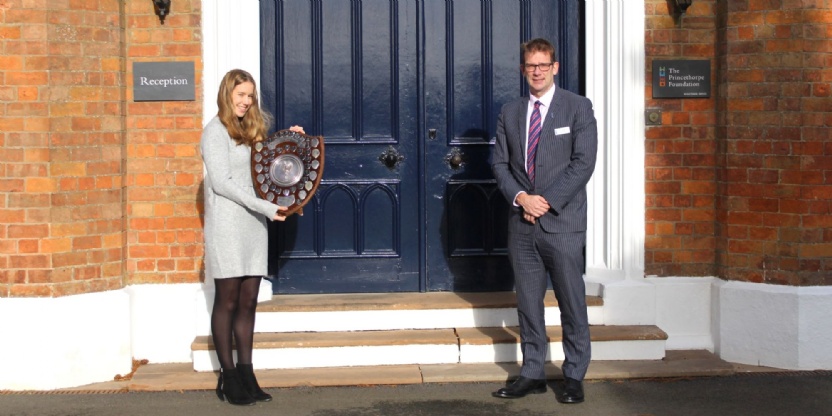 Another exceptional year of achievement, progress, creativity and contribution was celebrated at Princethorpe College's annual Prize Giving Ceremony on Friday 20 November.
This year the ceremony took place virtually, with the Class of 2020, their parents, staff and friends of the College coming together through Zoom.
Hosted by Headmaster, Ed Hester, members of the community from 165 locations logged on to join in the celebrations. Before the ceremony started, Peter Rollason, Chair of the Old Princethorpians Committee welcomed the newest OPs sharing his insights into the support the network can provide.
In his formal address the Headmaster, Ed Hester, gave thanks to all those who make Princethorpe the special place it is. In this year of all years his warm words paid tribute to all that is done by so many in support of the College, underpinning the success stories of all the Upper Sixth leavers and not just those who received prizes on the evening.
The atmosphere all evening was joyful and celebratory and there were superb musical interludes from the school Orchestra, who, accompanied by stunning graphics, performed a mesmerising rendition of Earth and the school choir who inspirationally sang the very appropriate Seize The Day.
And then it was time for the presentation of the awards. Listening to the citations was truly inspiring and humbling. The talent in evidence, the grit and determination, the passion, enthusiasm and commitment were all applauded and honoured.
And finally, it we came to the main award, the Princethorpe Shield, the oldest and most prestigious College award presented annually to the student who is seen to embody the spirit and ethos of the College in many facets of their school life. It was a very popular decision, with the audience cheering a delighted and surprised Katie Shorten who was thrilled to receive the Shield.
Then to close the proceedings current Head Girl, Abbie O'Carroll-Bailey, and Head Boy, Jack Neale, gave an eloquent vote of thanks before the evening finally came to an end with the enthusiastic singing of the College Hymn, Here I Am Lord by the online assembled throng.
The full list of Prize Winners can be found in the Prize Giving Programme below.