Princethorpe Reconnects With Old Friends In Hong Kong And The Far East
17 Nov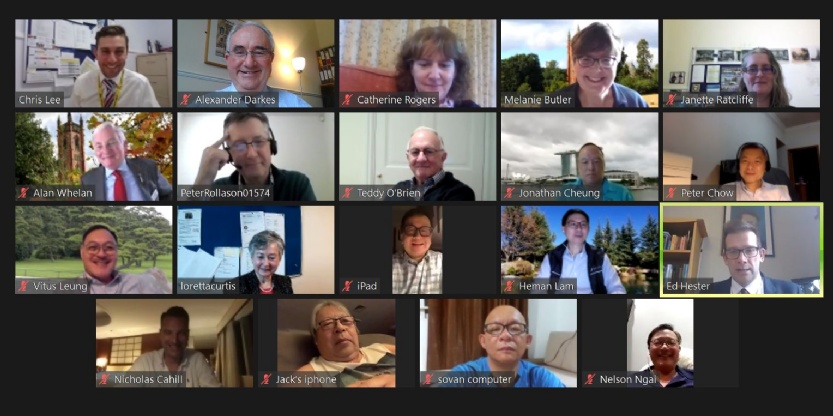 On Tuesday 17 November the Old Princethorpians Association hosted a virtual reunion for former pupils from Hong Kong and the Far East.
Joined by Princethorpe College Headmaster Ed Hester, former Headmaster Father Alan Whelan MSC, former Director of Boarders Father Teddy O'Brien MSC, former Director of Boarders and long-serving and much loved teacher Sean Philpott and lifelong Princethorpian and teacher Alex Darkes – the virtual reunion included Mass from the Princethorpe Chapel, a virtual tour of the school, a Quiz and a delve into the Princethorpe archives.
The evening began with a welcome from the Headmaster and from Alan Young, who heads up Old Princethorpians in Hong Kong. We were joined on the call by OPs from Hong Kong, mainland China, Singapore, Cambodia and Australia, as well as the staff team dialling in from a drizzly and overcast Princethorpe College.
Alex Darkes' Princethorpe Quiz proved a hilarious highlight – with the unofficial prize being announced as an all-expenses paid afternoon tea courtesy of and in the company of Sean Philpott (presumably post-COVID restrictions!).
Old Princethorpians excitedly shared their news and caught up – with many telling of their lifelong and lasting friendships from their time at Princethorpe.
Melanie Butler, Old Princethorpians' Secretary said, "The reunion was a wonderful chance to catch up with our friends from Hong Kong and the Far East again. The warmth of feeling towards their former teachers and the school, after all these years is testament to the experiences and friendships they made here. It was a pleasure for us to organise and the many messages of appreciation and thanks we've received from the attendees have been a real delight. On the back of this success we are now planning a similar virtual event in the spring for our OPs in the USA, so watch this space."
Here are just some of the comments received:
"Thank you all for a treasurable evening. It never ceases to amaze me that much of the school grounds remain so familiar after all these years. Thanks for bringing this nostalgia to life for us."
"Many thanks for hosting today's virtual reunion. I look forward to visiting Princethorpe when I am next in the UK."
"Thanks to Alex for the virtual tour, especially the store room in the Tower, it brought back many memories of the band practices we had there!"
"What a lovely catch up, thanks to all you guys who organised it. The Princethorpe spirit at its best!"
"Thank you everyone, wonderful chatting on zoom with you all, it certainly brings back some fond memories. Never thought I would attend Mass at Princethorpe again!"