House Talent Show Is Perfect Entertainment For Your Friday Evening
10 Nov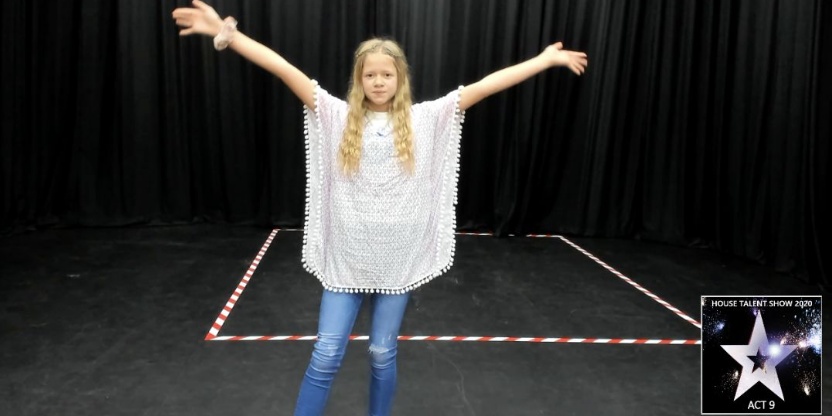 Much anticipated and always hotly-contested, the House Talent Show did not disappoint providing a sensational evening's entertainment for its audience in lockdown at home. Held this year on Friday 6 November, the socially distanced virtual show was watched by its largest audience ever as 541 members of the College community tuned in to view the pre-recorded show.
The 40-minute event was hosted by Jess Newborough, House Activities Leader, and included nine acts of talented, inspirational and brave pupils ranging from Year 7 up to Upper Sixth. All the acts had been given just one chance for their performance to be videoed so that the experience was as 'live' as possible.
For the first time the audience, and not the judges, decided the winner with 292 votes cast when the voting closed. The results were announced live in Tutor Time on Tuesday 10 November when a very excited Mrs Newborough visited the winners' classrooms to reveal the results.
In first place, for More, with 31% of the votes, was Year 7 Orla Fleming for her sensational performance of Abba's much-loved hit 'Mamma Mia'. Second, for Austin, with 16% of the vote was Year 7 Grace McCollin for her technically stunning gymnastics beam routine and in third place with 12% of the vote was Benet's answer to the Back Street Boys, Jackson Roderick, André Onyekwe and Ignacy Librowski, who performed Ed Sheeran and Justin Bieber's hit 'I Don't Care'.
We were super impressed by the enthusiasm and commitment to their House of all our performers who included: Abbi O'Carroll-Bailey, Elsa Isaacs, Georgia McCallum, Alice Minshull, Jackson Roderick, André Onyekwe, Ignacy Librowski, Liv Underhill, Grace McCollin, Chloe Potts, Louise Gambling, Delilah Teeton and Orla Fleming.
A huge well done to all and thanks to everyone who worked so hard to put together this year's spectacular House Talent Show.