Pupils Take A Closer Look At Black History
16 Oct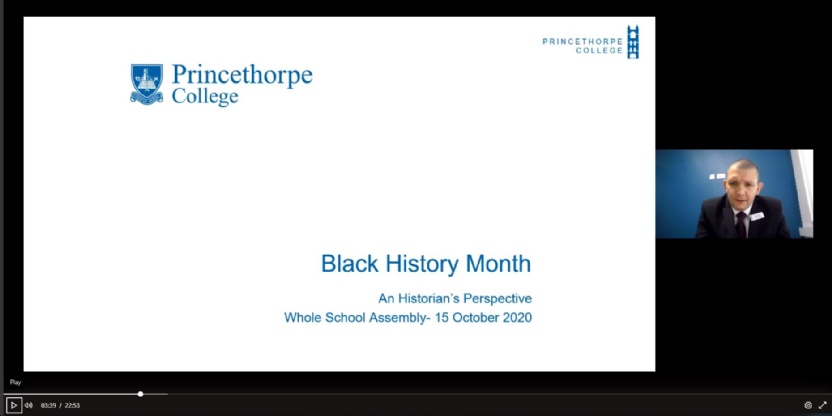 All pupils took part in assemblies on Thursday 15 October that encouraged them to dig deeper, look closer and think bigger about Black History Month. Led by Head of History, Peter Bucknall, the assemblies explored how Black history is entwined with British history.
His presentation reflected on the legacy of the slave trade and the impact it still has in society today. It explored the history of black people in the United Kingdom, from Roman times through the Elizabethan era, the Battle of Waterloo and into the 20th Century, the World Wars and the Windrush generation and the vital contributions black people have always made. Using stories of real people, he reflected that history can be misleading and delving deeper and understanding the past properly, helps to explain the present today.
Black History Month, and the contributions of black people, has also been the focus for House Activities with pupils challenged to celebrate the achievements and contributions made to our society by those of African and Caribbean heritage. Pupils have been sharing their 'hidden stories' through mediums such as art, drama, writing, presentations and video in a competition to earn house points.
Headmaster Ed Hester commented, "These activities all support the College's important theme for the year 'Caring', and challenge us all to appreciate black history and the importance of equality, diversity and inclusion both in society today and in our own lives. I am delighted that after feedback from parents, current and former students, we have written a new College policy on equality, diversity and inclusion. We will continue to engage with all members of our community to ensure that our ethos, often referred to as our 'spirit of family', celebrates the diversity of all members of our community."