Sixth Form Open Evening Provides A-Level Inspiration
19 Oct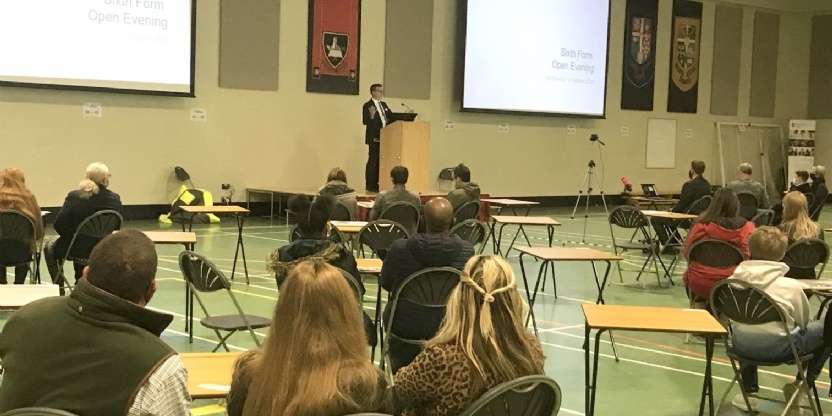 This year's Sixth Form Open Evening took place on Wednesday 14 October and offered Year 11 pupils the opportunity to discover what Princethorpe's Sixth Form has to offer. External candidates and their parents were welcomed into school in two carefully planned sessions in line with government guidelines, while current Year 11 pupils and their parents participated in a virtual version of the event.
The sessions began with a presentation from the Headmaster, Ed Hester and Head of Sixth Form, Ben Collie, in the Sports Hall. They talked about the College's family ethos, its focus on adding value for the individual and in supporting students to achieve their personal best. They also spoke about Princethorpe's strengths, such as the dedicated Careers team and the unique Princethorpe Diploma, that add so much value to students' future university, apprenticeship or employment applications as well as the high expectations and excellent academic results that are a vital feature to any Sixth Form provision.
Visiting families then enjoyed a self-guided tour around key locations, including the Sixth Form Centre, with staff and Sixth Formers on hand to point everyone in the right direction.
In addition all the prospective Sixth Formers were able to view pre-recorded subject introductions on the College website from our Heads of Department on the A-level and BTEC options. Information on the vast array of sporting, co-curricular, leadership and service opportunities was also available.
It was a busy evening with plenty of interest being shown. Feedback has been very positive with the subject introductions proving to be especially helpful. Head of Sixth Form, Ben Collie, said, "The next stage for all our prospective sixth formers is to decide on the subjects you might wish to study, as a rule of thumb you should focus on the subjects you enjoy and are doing well in. Our current Year 11s will be well supported throughout the process, which will pick up speed after the GCSE mocks."
More information on the Sixth Form Admissions process, and of Sixth Form Taster sessions for external candidates, is available from our friendly Admissions Team on 01926 634201 or 01926 634262 or by emailing admissions@princethorpe.co.uk.
A huge thank you to all the staff who helped on the evening and those involved in the preparations.
A copy of the 2020/21 Sixth Form Admissions Information Booklet, can be downloaded below.