Princethorpe's Porridge Pots Support World Porridge Day
12 Oct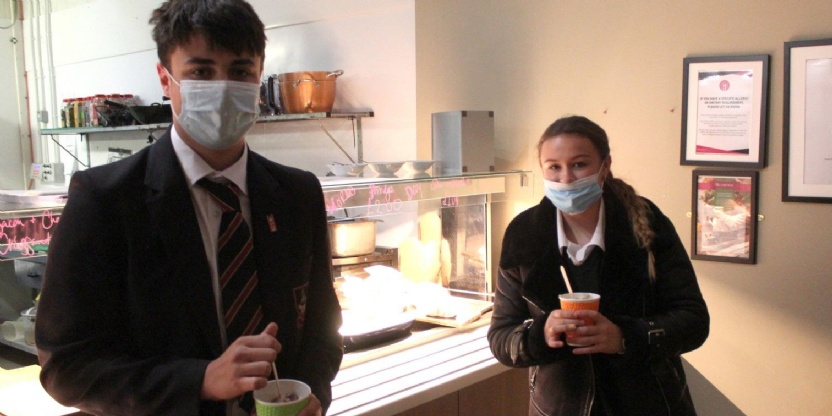 Princethorpe College pupils and staff have marked World Porridge Day by raising money for the Scottish charity Mary's Meals. Championed by our Sixth Formers and Assistant Head of Sixth Form, Rod Isaacs, pupils participated in a posse of Scottish and porridge fundraising fun.
At break time pupils were invited to dig deep and purchase a traditional Scottish breakfast, a pot of porridge, with a selection of luxurious toppings. Steaming pots were lined up all along the counter in the Refectory.
The Scottish theme continued out on the school fields where only the brave participated in the William Wallace Welly Wanging Challenge. This year organised in pupil year group bubbles, representatives from tutor groups enthusiastically flung, hurled, chucked and tossed the wellies across the fields.
The winning throw came from Year 11 pupil, Harry Cheshire with a magnificent throw of 32.8m for Benet House, Mr Hester was a close second for Fisher at 31.3m. Year 11 pupil, Evie Philips, from More House, threw her welly a tremendous 23m to claim the longest throw for the girls.

Final House standings were: 1st Benet, 2nd Austin, 3rd Fisher and 4th More. Well done to all the pupils who participated.
Rod Isaacs explains, "Princethorpe College has raised over £110,000 for Mary's Meals in the last 14 years through epic sponsored walks, welly-wanging and cake sales. Last year alone we raised over £10,000 and we are committed to continuing our fundraising for the forthcoming year."
He continued, "We have had a lot of fun and laughter today. Many thanks to all the Sixth Formers and staff who helped to organise the events. We raised £140.03 which equates to about 470 meals for the College's ongoing feeding programme at Makalanga School."
World Porridge Day, held annually on 10 October, is a fundraising event organised by Mary's Meals in aid of starving children in the developing world. The charity provides daily meals in a place of learning addressing both the immediate needs of hungry children whilst encouraging them to go to school where they can gain an education that can help them out of poverty. Through their school feeding programmes in 14 countries across Africa, Asia, Latin America and the Caribbean they feed over 1.3 million children every year. It costs just £15.90 to feed a child for a whole year.
You can find out more about Princethorpe's fundraising for Makalanga or make a donation here.