New Fine Art Print Of Princethorpe's Tower Goes On Sale
02 Oct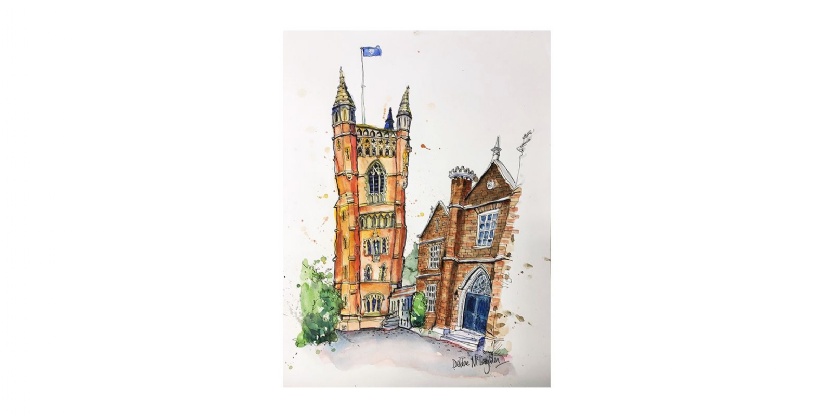 Fine art prints of a new painting by Debbie McLaughlin - The Soaring Redbrick Tower - are now available to buy from the Princethorpe Connect online shop.
Local artist Debbie has a long association with the College having worked closely with the Marketing Department on all its design work for the past 14 years.
The new painting, completed during the lockdown, is in the artist's favoured urban sketching style and depicts the famous Princethorpe tower and the main reception entrance to Princethorpe College.
Debbie grew up in the small village of Offchurch and has been drawing from an early age. She always wanted to have a career in the creative industry and went to Exeter College of Art & Design to do a degree in Graphic Design. Although she also loves painting portraits she started sketching her favourite subject, buildings, when she worked in London and always has pen and paper to hand in case she gets inspired.
Debbie told us, "I love architecture and buildings and like to give them character rather than producing a straight copy. Some weekends I gather up my pens and watercolours and meet up with the Oxford Urban Sketchers Group and we spend the day sketching buildings around the city. I was lucky enough to join the Hanoi Urban Sketchers group recently whilst on holiday and had a day sketching beautiful Vietnamese buildings. I run my own business, Dam Design Creative, and enjoy working with the Marketing Department at Princethorpe College, I really feel part of the team. When driving up to meetings at Princethorpe I have always been in awe of the beautiful soaring tower, so was thrilled to have the chance to paint it."
The high-quality, fine art giclée prints have been reproduced from the original painting using 11 lightfast inks to provide a gamut of colour and printed on 285gsm, 100% cotton rag white portrait paper.
Available in A3 and A2 sizes, they are supplied rolled in an 80mm postal tube, ready for framing. Individual A5 greetings cards with the same design are also available to buy.
This first run is strictly limited numbers, so please order early to avoid disappointment. A perfect gift for birthdays or Christmas for all Princethorpians, all profits from sales will support the Making A Difference at Princethorpe campaign.
Our Development Director, comments:
"It's been nearly 20 years since Princethorpe College last commissioned a painting of the building, and we thought it was right time to commission a new artwork, which in itself could support Making A Difference at Princethorpe."
"Debbie's painting is fabulous and really captures the spirit of Princethorpe in 2020. It's very exciting that we're able to offer fine art prints to the Princethorpe community."
"The prints and the cards would make perfect gifts for Christmas. The A3 print is almost identical to the original painting in size, but for those who want more of a statement piece, the A2 print really makes an impact. Scanned from the original painting in super-high resolution and reproduced using the giclée printing process, the result has been amazing. This initial run is strictly limited, so please do order early to avoid disappointment."
The A3 and A2 giclée prints and greetings card can be ordered online here. The A3 print is priced £25 (plus P&P), the A2 print is priced £40 (plus P&P) and greetings cards are available for £3 each (plus P&P).