College Clock Restoration Complete
25 Sep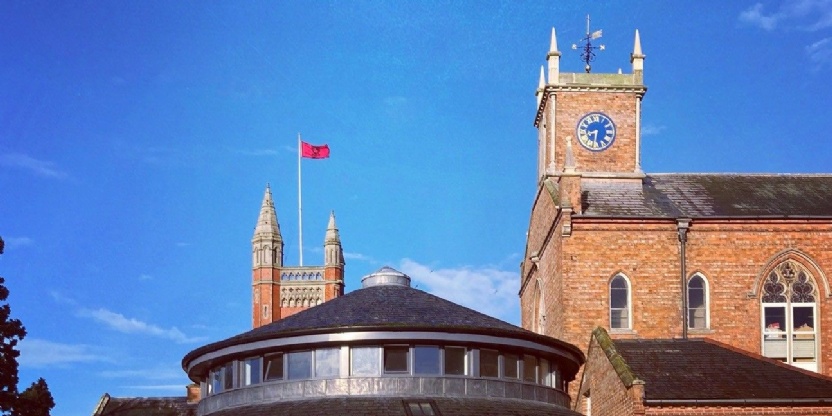 The College Clocktower has been shrouded in scaffolding for over a year now undergoing some much-needed renovation. The clocktower is a landmark at Princethorpe and has played an important role in the daily lives of all who have lived and worked here.
The current clock was purchased in 1861 and was last renovated in 1959 for the then Reverend Mother, Mary Augustine's Golden Jubilee.

The stonework of the tower was badly in need of restoration, when the structure had originally been built the builders had used metal tie bars to hold the stonework together. Over the years water had rusted the metal and the rust had eventually blown the stone. Stonemasons, Midland Conservation, have replaced every defective piece of stone.
The clock is a cast iron chair frame design movement with hour strike and ting tang quarter chimes, it drove two external dials with an anchor escapement with pendulum action. The weight driving pulley system was badly in need of restoration, particularly the top pulleys and timber support above the weights, the pulleys needed to be removed for overhaul and the top fixing timber replaced, so it was decided that converting the movement to automatic winding was the best way forward.
Cumbria Clocks, church and public clock specialists, took on the work and were amazed by the ingenuity of staff, including former Head of Chemistry, John Miller and Estates Assistant, Gerry Lovely, had shown in keeping the old clock going
It has all now been carefully restored, with a new auto winding mechanism fitted, the clock movement dismantled and cleaned and the clock faces returned to their original size and given a fresh coat of blue paint. The dials and numbers are all now a beautiful bright shining gold.
The weather vane had also rusted and no longer moved. Its condition was so poor that we considered replacing it. However, the stonemasons were able to rebuild it and finish it with a new paint.
It has been wonderful to see the clock and weathervane atop the tower in the lovely autumn sunshine and to hear the distinctive chimes sounding. It can now once again be a focal point for the whole community to enjoy.