House Activities Afternoon - A Fantastic Finish To The Half Term
03 Jun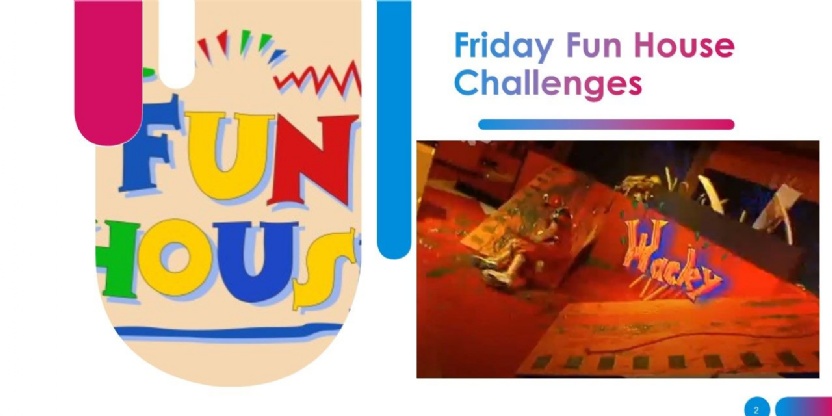 At the end of Assessment Week, on Friday 22 May, just before Half Term, the College organised a virtual 'Friday Fun House' activities afternoon.
Working together in their Forms, pupils completed a series of seven interactive challenges. Put together and co-ordinated by Assistant Head Co-curricular, Neil McCollin, alongside the House Activities team, the Friday Fun House afternoon of fun included all the traditional Trinity Term House activities, put together with a few extra special new ones.
There was a Question of Sport Quiz with five rounds, that included the famous picture board, a series of quick fire multiple choice questions, Princethorpe's sporting names and logos challenges and even a guess the mystery sports coach round. Then there was the Spelling Bee, where pupils took part in online tests and the best score for each year group in each form earned points for the Tutor team. There was a very popular Mario Kart race, a Mastermind Quiz round with the specialist subject, the Princthorpe Ethos, a Crystal Maze Treasure Hunt and of course Princethorpe's very own University Challenge. Finally, there was the weekly Tuesday Challenge were pupils were asked to recreate a famous sporting moment and upload a photo or clip to their House Team.
All of the quizzes were run live in Tutor Team meetings and gave pupils the opportunity to catch up with their Tutor Group as they unwound from the serious studies of assessment week.
The afternoon proved to be fantastic fun for all. Neil McCollin said, "We had a really great afternoon, thank you to all the pupils and staff for joining in so enthusiastically. There was plenty of friendly competition and I really enjoyed joining the forms and seeing it all in action."
After totalling up all the points the results were very close, with just one point between the top two teams. The results were: 1st Austin, 2nd Fisher, 3rd More and 4th Benet.
After all the scores for all the House activities last term, the Friday Quizzes, the Weekly House Challenges and the Friday Fun Activities afternoon, were collated the housepoint totals now stand at:
1st More 1259
2nd Austin 1169
3rd Benet 990
4th Fisher 813
Well done to all, and thank you to all the pupils and staff for your enthusiastic participation, and a huge thank you to all who work so hard on putting all of the events together