Virtual Ceremony Announces Princethorpe Diploma Awards And Welcomes New Sixth Form Subject Ambassadors
19 May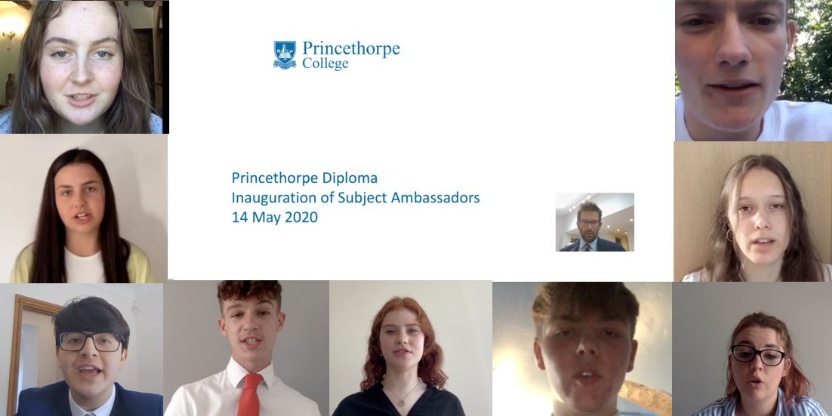 On Thursday 14 May Princethorpe College shared a virtual ceremony with pupils across the school. The video assembly announced the names of the Sixth Form students awarded the prestigious Princethorpe Diploma and then went on to introduce the College's new Subject Ambassadors.
Headmaster, Ed Hester, opened proceedings by reflecting on the importance of the Princethorpe Diploma, an award created to recognise all those students who give so much to the school. The Princethorpe Diploma is given to Sixth Formers who evidence commitment and contribution across the board, to Academic Studies, Community and Ethos, Service To Others, Work Experience, Co-curricular and Attendance And Punctuality. It is a testament to these young people's qualities and skills.
We offer our congratulations to this year's Sixth Formers awarded the Diploma. A list of recipients can be found below.
Head of Sixth Form, Ben Collie, was then delighted to announce the new Subject Ambassadors. A list of the Subject Ambassadors can be found below.
Assistant Head – Teaching and Learning, Dr Liz Pyne, spoke about the important role of the Subject Ambassadors, the passion they have for their subjects and the work they do to support the wider school community. Princethorpe's Subject Ambassadors host lunchtime clinics, support pupils attending Princethorpe Prep, promote their subjects, encourage their younger peers to get involved with their subjects and generally work to further the pupil community's understanding and engagement in their subject area.
The new Subject Ambassadors then spoke to the community to introduce themselves and share their plans for the year.
We congratulate our new Ambassadors on their appointment and offer our thanks go to the outgoing Ambassadors for all their hard work this past year.