International Cricketer Ben Stokes Presents Prestigious Winter Sports PrizesItem Title
01 May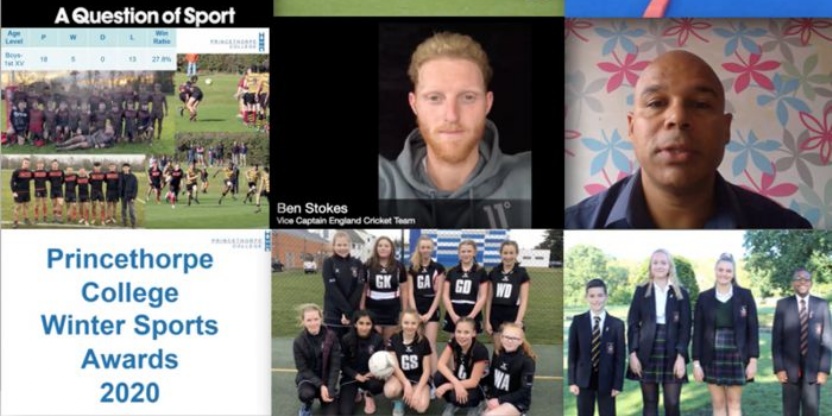 Princethorpe College's Virtual Winter Sports Awards took place on Thursday 30 April.
It was an opportunity to recognise the achievements of the College's young sportsmen and sportswomen at all levels and across all sports.
Host for the event was Assistant Head Co-curricular, Neil McCollin, who led the special virtual celebration of this season's sporting endeavours, and the event included a special guest appearance by a sporting global superstar, English international cricketer and current vice-captain of the England Test team, Ben Stokes.
Ben kindly agreed to be involved as he is a childhood friend of Head of Boys's Games, Mike Turns.
The award ceremony began with a summary of the performances of the College's sports team. Coaches reflected on the past season and for each team awards were announced recognising endeavour, progress, coach's player and most valuable player. The wide range of sports and the sheer numbers of pupils involved, a testament to the importance of sport to life at the College.
Mr McCollin then went on to announce the teams of the season for which there were many contenders. Reflecting on the team's success, the numbers of fixtures played and the opponents faced, the Girls Sports Team Of The Year was awarded to the U15 Hockey team. For the Boys Sports Team Of The Year, after considering the strength of the opposition and the fixture lists the award went to the U13A Rugby team.
A number of pupils were awarded prestigious full colours recognising their commitment and dedication to sport both on and off the field. They included Emelia Tubb, Maddie Glasspool, Jack Bent, Sam Armstrong, Will Basford, Issy Smith, Caitlin Parris, Lucy Gribben, Oli Thomas, Henry King, Will Cooper-Harris, Tom Crowfoot, Will Crowfoot, James Crabtree, Fionn McCormack, Thomas Parker and Oscar Phillips.
Then it was the turn of our special guest speaker, Ben Stokes, who began by reflecting on the importance of sport and the role it plays in the lives of young people. Ben was delighted to announce the individual sports prizes congratulating each of the winners, they included:
Junior Sports Girl Of The Year – Alice Whittaker
Junior Sports Boy Of The Year – Jamie Smith
Senior Sports Girl Of The Year – Lucy Gribben
Senior Sports Boy Of The Year – Freddie Draper
Sixth Form Sports Girl Of The Year – Izzy Smith
Sixth Form Sports Boy Of The Year – James Crabtree
Ben finished by saying, "Congratulations to all of the winners, a fantastic effort from everybody."
All in all it has been another very successful season for the College with plenty to celebrate, albeit in a virtual way.