Outdoor Education Celebrates Pupils' Achievements
12 Feb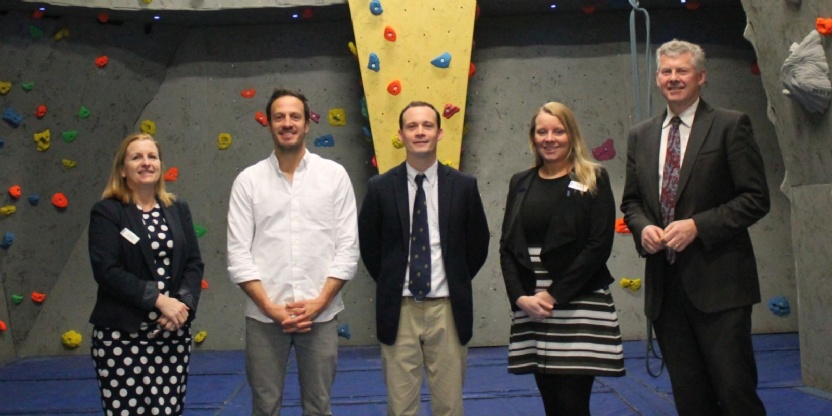 Over 240 pupils, parents, invited guests and staff gathered together on Tuesday 11 February for the College's third annual Duke of Edinburgh's Award Certificate Presentation Evening.
2018-19 was another exciting year, including orienteering, climbing, cycling plus a record ten Duke of Edinburgh expeditions.
Of the 170 pupils who completed their qualifying expedition last summer, so far 80% have signed off their whole award. Completing a Duke of Edinburgh's Award is a big undertaking, with Gold taking at least 450 hours of commitment. The Princethorpe pupils involved have all shown initiative, personal discipline and good humour in order to get to the finish line.
The College was delighted to welcome special guest, mountaineer Jon Gupta, as our speaker, Richard Lea from our expedition partners, Peak Pursuits, and Princethorpe Trustee Mike Fletcher. They were all pleased to join us to help celebrate pupils' achievements. The evening also offered a chance to thank all the staff whose commitment make Outdoor Education here at Princethorpe such a success, including Tamsin Frost, Duke of Edinburgh Award Verifier, Jan Ryalls, Bronze Award Co-ordinator and Julia Lindsay, Silver Award Co-ordinator.
Will Bower, Head of Outdoor Education, began by summarising the year before speaking briefly about the positive impact exposure to the outdoors has on us all. Following that the Bronze Certificates were distributed.
In an inspirational speech, Jon spoke about his involvement in the famous Project 7 in 4 as guide to Steve Plain, who beat the world record to climb the highest mountain in seven continents in under four months. It was fascinating to learn of the incredible determination, physical effort, knowledge, skill and sense of fun involved in achieving a world record. It was amazing to learn what's required to achieve such a ground breaking feat.
After Jon had finished his talk he completed a question and answer session. Following this the Silver and Gold Awards were presented, before the evening came to a close with a prize draw and photographs.
All in all it was a fun evening and a fitting way to mark the outstanding achievement of pupils in Outdoor Education. There is still time for anyone who has not quite completed their award to get it finished! Pupils are encouraged to attend the lunchtime eDofE drop-in clinics to get things sorted.