Four Team Titles And 14 Qualify For The National Cross Country Championships
05 Feb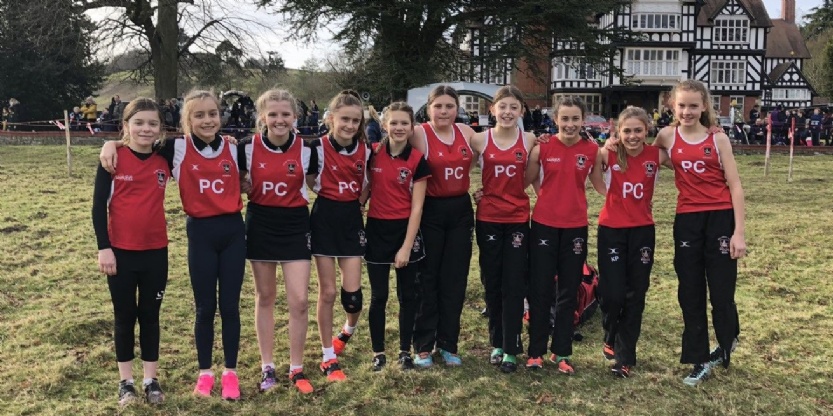 14 Princethorpe runners have qualified for the National ISA Cross Country Championships after competing in the Midlands regional competition at Bedstone College, Shropshire on Wednesday 5 February.
In addition the U15 Boys, U15 Girls, U13 Boys and U13 Girls teams all placed first, the icing on the cake for the College.
Princethorpe College runners have a long tradition of success at this competition, many have competed at Bedstone before, so hopes were high as they set off to do battle for a place at the National competition.
Both the U13 Girls' and Boys' teams ran well and with so many College pupils finishing in the top 20, both Princethorpe teams bagged the top spot and the team trophy for their age group. Qualifying for the Nationals for the U13 Girls were Kate Pomerleau, Ava Farren and Hannah Wildey who ran superbly to come 1st, 3rd and 5th position respectively. For the U13 Boys Ben Smith, Oscar Reynolds and Ollie Farquharson were just as determined to qualify, finishing their race in 3rd, 5th and 9th.
For the U15 Girls Grace Darcy and Jess Evans had excellent runs to finish in 3rd and 6th place. Whilst for the U15 Boys Zac Johnson, Toby Collett and Jamie Smith came home in quick succession in 5th, 6th and 7th place. They all qualified for the Nationals too.
The U18 Boys team ran swiftly with the Crowfoot twins in excellent form, Tom finished 1st and brother Will 2nd, reversing the results of last year, both qualify for the Nationals, and with a solid team performance the U18 Boys also claimed second position overall for their age group.
In the U18 Girls, Molly Minshull had an excellent race taking 3rd place in a competitive field, she qualified for the Nationals too.
Head of Outdoor Education and PE Teacher, Will Bower, said, "It was a fantastic team performance and I am delighted with the results. You never quite know what you're going to get with cross country as conditions can be difficult, but today we had red vest after red vest crossing the line at the front of the field; our runners took on the arduous terrain and did very well."
Our qualifying runners will now compete in the ISA National Cross-Country championships that will take place at Worksop College on Friday 20 March.
Congratulations to all who took part.
Running for Princethorpe were: Hannah Wildey, Martina Grace, Olivia Bacon, Pip Evans, Kate Pomerleau, Grace Darcy, Ava Farren, Julia Loftus, Jess Evans, Kaena Wasley, Emma Sarkies, Ella Dunkley, Lottie O'Connor, Amelie Hancock, Rosie Reeve, Caitlin Horan, Olivia Sarkies, Molly Minshull, Jesse Esler, Jamie Capelett, Ben Smith, Ollie Farquharson, Eddie Arkesden, Finn Knight-Gray, Zac Johnson, Jamie Smith, Will Antrobus, Oscar Reynolds, Albert Jackson-Bettles, Thomas Windley, Ed Twyman, Toby Collett, Ollie Bench, Sam Allen, Dan Webb, Tom Crowfoot, Will Crowfoot, Luke Palmer and Fred Self.