College Sixth Formers Are Runners Up In Rotary Youth Speaks Competition
06 Feb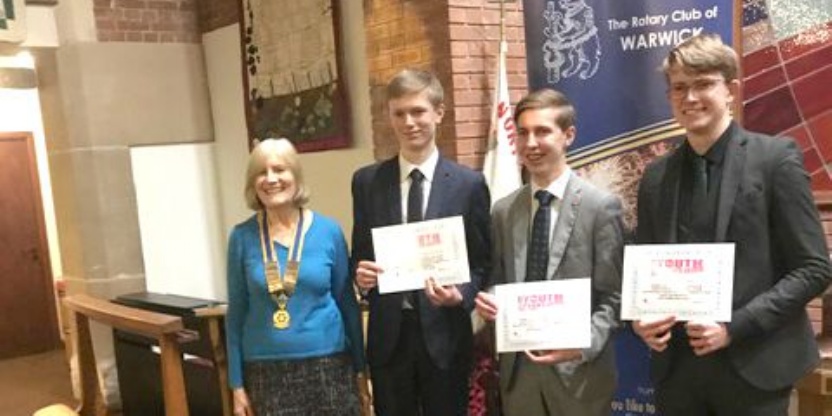 Upper Sixth Formers Anthony Lock, Samuel Wycherley and Oscar Doyle impressed the judges to finish as runners up in this year's local Youth Speaks, the Rotary Club's annual public speaking challenge.
In the competition, which took place on Thursday 6 February at the Northgate Methodist Church in Warwick, the Princethorpe College students faced teams of pupils from local schools.
Youth Speaks requires a team of three students to stand up and deliver a speech on a subject of their choice. It provides a great opportunity for young people to develop the ability to speak on a public platform, carry out research and formulate ideas, improve their self-confidence and presentation skills, and work together as a team.
Each competing team comprises of a Chairman, a Proposer and an Opposer. The Chairman introduces the debate and the Proposer and Opposer then speak for and against the motion. The structure of the event makes for an entertaining and diverting session where the students not only have to present clearly, but also spontaneously respond.
Competing in the Senior section, the team debated the motion 'Positive discrimination is never justified', Anthony Lock introduced the debate as Chairman, Samuel Wycherley spoke in favour of the motion and Oscar Doyle spoke against. The students were eloquent and convincing. Their speech was very well received with the audience engaged throughout.
The students had worked hard to prepare thoroughly. They were helped and supported by Head of English, Chris Kerrigan who commented, "Anthony, Samuel and Oscar were an absolute pleasure to work with. They put a lot of effort into researching the subject and were commended on the quality of their ideas and their speeches. It was an excellent result and they should be proud to have finished as runners up in what is always a tightly fought competition. It really was an outstanding effort and performance."
The boys, who narrowly missed out on first place to an experienced team from Myton School, thoroughly enjoyed the evening and learned a lot from listening to the other teams who took part.