Try Tag Rugby Was Tremendous Fun
24 Jan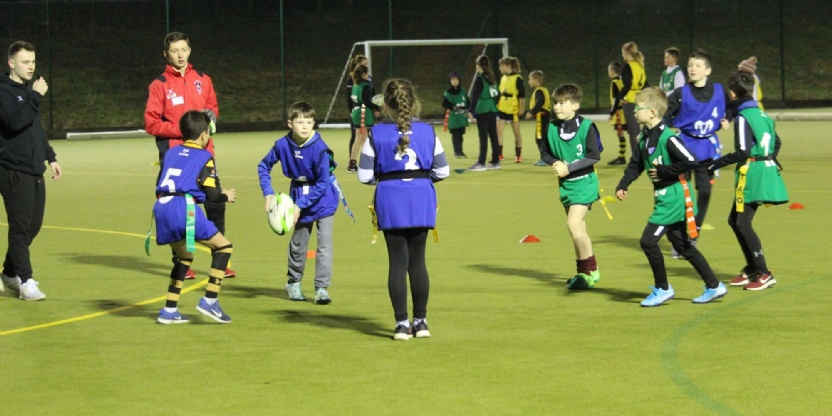 Year 5 and Year 6 pupils from local primary schools enjoyed a fun introduction to the sport of Rugby when they took part in Princethorpe's Try Tag Rugby event.
The after-school session took place on Friday 24 January and was organised by the College's PE team out on a cold but dry all-weather pitch.
Working in small groups, led by Sixth Form Games Prefects and Coaching staff, the children began with energetic warm up activities. They were then split into groups depending on their experience for a series of skill building drills. There was plenty of quick, agile passing and slick ball handling from the young players as they got to grips with this fast-paced sport. The session finished with a mini tournament played in front of an enthusiastic crowd of parents and siblings. The youngsters then wended their way home clutching certificates and munching one of our legendary Princethorpe cookies.
Princethorpe College Primary School Sport Liaison Teacher, Hannah Carminati, was impressed at how well the children took to the sport commenting, "It was great to have so many enthusiastic boys and girls here on a Friday afternoon. They had lots of fun getting to grips with Tag Rugby, quickly mastering the game and it was great to see everyone enjoying playing together. They progressed enormously and the standard of Rugby played in the mini-tournament was really very good."
Feedback from parents was great too with one commenting, "A huge thank you for the fantastic time my son had at Tag Rugby, he was full of enthusiasm after the event."
The successful workshop was just one of a series of activities and opportunities the College organises for prospective pupils to introduce and familiarise the youngsters with the school. Next up on the sporting front is Princethorpe's Say Hello to Hockey event for Year 4 and 5 children which takes place in the Trinity Term on Saturday 2 May.