Minor Girls, Junior Girls, Inter Boys and Senior Boys Are County Cross Country Champions
21 Jan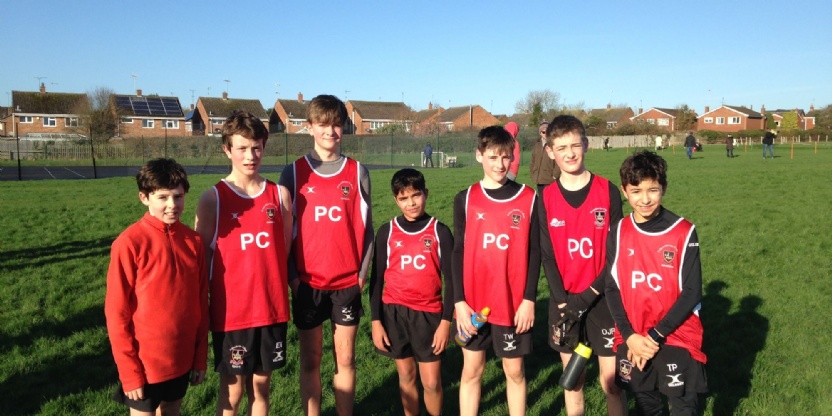 The Minor Girls, Junior Girls A, Inter Boys and Senior Boys teams all placed first overall claiming the County Cross Country Championship titles.
The Warwickshire Schools County Cross Country Championships took place on Saturday 18 January 2020 at Kineton High School. It was a bright but chilly morning for our 38 Princethorpe runners, who were drawn from Years 7 to 13. They were competing against some of the best runners in the County, from 29 Warwickshire schools. All the early morning cross country training paid dividends with another excellent set of individual and team results for the College; team placings are based on the positions of the first four runners from a school.
The Minor Girls, Junior Girls A, Inter Boys and Senior Boys teams all placed first overall claiming the County Cross Country Championship titles. The Junior Girls B and the Junior Boys teams also ran well to come third with the Minor Boys placing fifth.
The Minor Girls and Minor Boys ran 2.3km, the Junior Girls 3.25km, the Junior Boys and Inter Girls 3.85km and the Inter Boys 5.2km.
For the Minor Girls an excellent team effort saw Hannah Wildey come home first (7th), followed by Martina Grace (8th), Olivia Bacon (15th) and Pip Evans (22nd) to claim the County title.
In a superb run Year 8, Kate Pomerleau finished first overall in the Junior Girls race, with Grace Darcy hot on her heels (2nd), Ava Farren (4th) and Julia Loftus (11th) helping the Princethorpe A team take first place. Jess Evans (12th), Kaena Wasley (13th), Emma Sarkies (23rd) and Emma Dunkley (33rd) helped the Princethorpe B team to a pleasing third place.
A steady team performance allowed Toby Collett (18th), Ollie Bench (19th), Archie Hancock (20th) and Sam Allen (21st) to claim first place for the Inter Boys.
Whilst for the Senior Boys Tom Crowfoot finished third with brother Will Crowfoot just behind in fourth and Luke Palmer (9th), they also took the team title.
For the Minor Boys, Jesse Esler was first across the line (15th) followed by Jamie Capelett (18th) Andre Barnett (35th) and Sean Birtley(36th).
Molly Minshull and Erin Darcy ran their nearly 4km course confidently to place (15th) and (18th) respectively for the Inter Girls.
Princethorpe's runners' excellent individual placings mean that many will now be considered for selection to represent the Midlands in the English Schools Athletics Association (ESAA) Cross Country Cup later this year.
Head of Outdoor Education and PE Teacher, Will Bower commented, "It was good to see the College so well represented at the County Championships. Well done to all of our competitors, we saw some excellent personal performances in tough races. I am delighted with the overall team results, not least placing first in four of the age groups we entered."
Running for Princethorpe were: Hannah Wildey, Martina Grace, Olivia Bacon, Pip Evans, Anna Johnson, Kate Pomerleau, Grace Darcy, Ava Farren, Julia Loftus, Jess Evans, Kaena Wasley, Emma Sarkies, Emma Dunkley, Alex Bonsall, Rosie Reeve, Molly Minshull, Erin Darcy, Jesse Esler, Jamie Capelett, Andre Barnett, Sean Birtley, Ned Roach, Zac Johnson, Oscar Reynolds, Albert Jackson-Bettles, Timothe Peyret, Thomas Windley, Luc Sen-Gupta, Ed Twyman, Toby Collett, Ollie Bench, Archie Hancock, Sam Allen, Ben Scares, Dan Webb, Tom Crowfoot, Will Crowfoot and Luke Palmer.