OP Murray Wells Inspires Engineers With Tales Of The Bloodhound Supersonic Car
13 Jan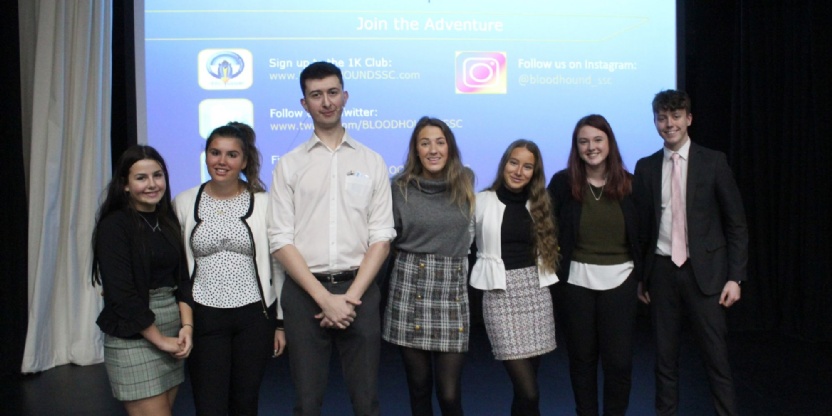 Princethorpe College was delighted to welcome back Old Princethorpian Murray Wells on Thursday 9 January to talk to Lower Sixth students and Design Technology pupils about the Bloodhound SSC (Supersonic Car) Project and plans for it to set a new world Land Speed Record.
Murray left Princethorpe in 2014 and went on to study Aerospace Engineering at the University of Hertfordshire. He had always wanted to be an engineer, his choice of career reinforced by a video he saw explaining just how the Bloodhound was powered. So he jumped at the chance to work on a placement with the project, amongst the UK's best engineers, on what can only be described as a once in a lifetime opportunity.
Murray explained that the Bloodhound SSC project has two objectives. To set a new Land Speed Record at or above 1,000mph, but also to address the shortage of engineers, by inspiring a whole new generation of enthusiasts. He recounted the history of the Land Speed Record and of British involvement in it and how ex-RAF pilot Andy Green finally set the current record of 763 miles per hour in Thrust SSC in 1997.
He talked about the Bloodhound SSC Project and the design challenges it faces. How it took two years to design a new body shape, the search for the right engine, the challenges of developing fuel pumps, air brakes and even wheels. He explained that the car will weigh six tonnes, be three metres tall and larger than a bus and that the plan is to drive at 1,000 miles per hour over 12 miles of desert. He explained about the work done to prepare the race site in Hakskeen Pan in the Mier area of the Northern Cape, South Africa and the positive impact the project has had on the local community.
Assistant Head of Sixth Form, Rod Isaacs and Head of Design and Technology, Paul Scopes both agreed that Murray's talk was fascinating, saying, "The Bloodhound SSC is one of the most exciting engineering projects in the world, there really is nothing like UK engineering, it was incredible to hear about the project and its achievements so far."
Our huge thanks go to Murray for taking the time to come into school to talk about the project and his involvement with it.