Michaelmas Term Celebration Of Achievement Lunch ​​​​​​​
28 Nov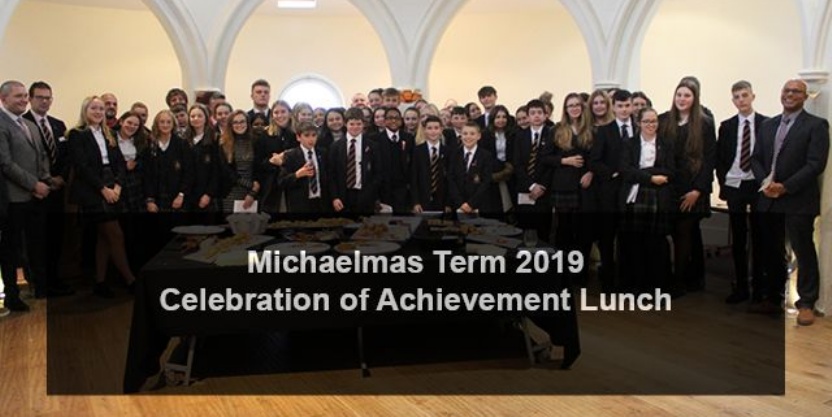 As the Michaelmas Term draws to a close on Tuesday 26 November 54 pupils from across the College were invited to the Roundhouse for a special celebratory lunch.
Nominated by members of staff, the pupils had all risen to the challenge of the College's ethos. They had tried their best in many different ways. Some had excelled or showed commitment to sport, performing arts or academic studies, whilst others had gone over and above for their House or Tutor group.
Hosted by Assistant Head – Co-curricular, Neil McCollin, the Celebration of Achievement Lunch recognised pupils that go the extra mile, those who commit in extraordinary ways whether by actions or achievements, both inside or outside of College life.
In a short speech, Mr McCollin congratulated each and every one of them, recognising the commitment and effort they put in and thanking them for enriching school life.
Congratulations go to:
From Year 7: Bobby Chapman, Harrison Guest, André Onyekwe and Luca Smith
From Year 8: Douglas Bray, Daisy Burke, Raul Camargo-Jones, Bertie Critchley, Chloe Henderson and Ben Smith
From Year 9: Kitty Bonsor, Jens Cowdry, Katie Richards, Jamie Smith and Zara Simpson
From Year 10: Ethan Brown, Harry Clements, Amelia Greig, Molly Harper, Jess Mackenzie, Keira MacRae, Freya Mills, Evie Phillips and Lara Tripp-Smith
From Year 11: Oscar Blunsom-Washbrook, Max Critchley, George Dunkley, Robyn Field, Lucy Gribben, Nell Johnston, Ben Killian, Mary Lomas, Hannah McBride, Lucia McCosker-New, Izzy Nelson, Izzy Riley, Ciaran Smith, Jonti Spilman, Ella Woodrow and Prabhvir Vraitch
From Lower Sixth: Lauren Abba, Sophie Cheshire, Josh Tidd and Emelia Tubb
From Upper Sixth: Rajpreet Birdi, Ellen Bucknall, Maddie Downey, Millie Hainge, Ciara Hancox, Alys Hemmings, Sophie Mitchell, Hannah Owens, Thomas Parker and Katie Shorten
More information on pupils' achievements can be found below.