U13 Girls Take Bronze At ISA National Hockey Tournament
22 Nov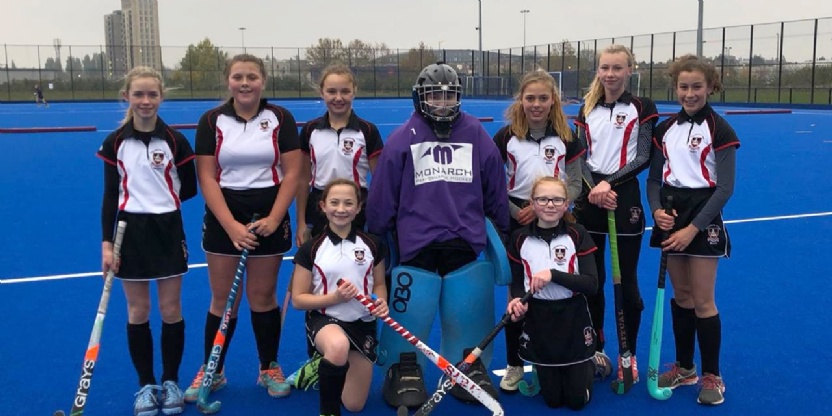 Princethorpe College's U13 Girls Hockey team finished in third place taking the bronze medal after a sensational performance at the Independent Schools National Hockey Tournament.
The competition took place on Thursday 21 November at the Lee Valley Hockey Centre on the Queen Elizabeth Olympic Park. 18 teams had travelled from across the country to take part in the prestigious event.
The girls stormed through the group stages without conceding a single goal. Their opening match was played against Luckley House School and confident stick work led to an easy 7-0 win. Then they moved on to Quinton House School, who they dispatched just as quickly 5-0. The next match in the group stage was against a strong Bedstone College team and they put up more of a fight, the match was fast paced but Princethorpe's girls still came out on top 2-0 before finishing the initial round with another win against Finborough School 2-0. The girls were delighted to qualify for the knockout stages of the Cup competition.
In the semi-final they were up against an experienced Ballard School squad. It was a much tougher game, both sides played well and the match finished in a 1-1 draw. Disappointingly Princethorpe then lost out on sudden-death flicks. The girls were down-hearted, but remained resilient as they went on to face Finborough School in the play-offs. Another super performance won their final match and earned them a third-placed finish overall.
Team coach Hannah Carminati was thrilled and commented, "The girls played fantastic hockey all day and taking the bronze medal is a brilliant reward for their commitment and tenacity on the pitch. I am very proud of them, they were amazing."
Playing for Princethorpe were Year 8 pupils Bea Boakes, Georgia Dowling (Captain), Honor-Mae Minshull, Kate Pomerleau, Anna Reay, Rosie Reeve, Liv Sarkies, Jemima Teeton and Sage Westbury.