Plenty Of Progress On The South Coast Sports Tour
25 Oct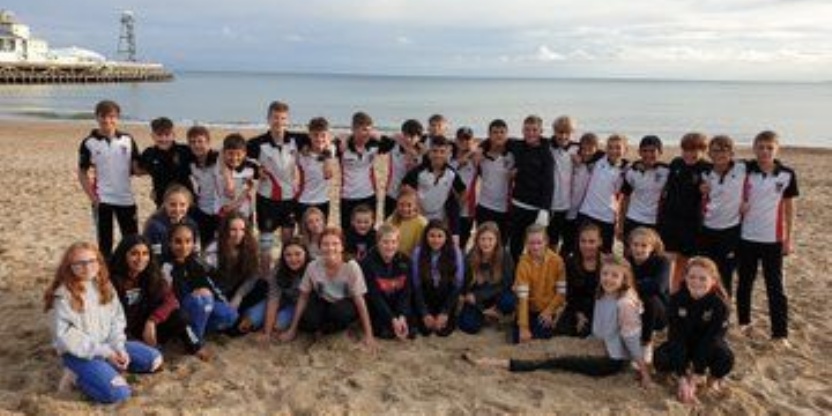 Over the half term holidays Princethorpe College took 39 pupils on a four-day sports tour along the south coast.
Now in its fifteenth year the netball and rugby tour included, as always, three matches interspersed with plenty of off-pitch activities and fun.
Playing unfamiliar opponents, the tour provided the opportunity for all to hone skills and practise techniques against friendly but super-competitive opponents.
The Year 9 boys had a good start winning a well matched, physical game against Portsmouth Rugby Club 21-26. They then faced the excellent and well-drilled Dauntsey's School, despite working hard and being disciplined in defence Dauntsey's proved just too strong and the match went against the boys 29-19. Nevertheless, it was a really good game and Dauntsey's coach was very complimentary about Princethorpe's boys. The team's last match against Poole Grammar proved another close affair. Carrying some injuries, the boys had to work hard, and there was just one point in it at the end, with Princethorpe pleased to get the win 28-29.
The Year 8 netball girls battled with their own set of tough matches and learned plenty to take forward to future games. What was most pleasing to see was their positive attitude and mental resilience throughout the tour. Fielding two teams, the girls first played Portsmouth High School. There, the A team faced a team full of club players who were fast and slick, they had most of the possession and our girls went down 16-48. The B team also had a hard time and, despite their enthusiasm, were overwhelmed 5-22. Up next was New Forest Netball Club and a couple of action-packed games. Both of the girls' teams took on board their coaches' suggestions with evident improvements to their game. The matches were competitive but fun throughout and the girls were pleased to get two good wins, U13A – 27-8 and U13B – 23-12. Their final matches were against old adversaries Talbot Heath. It has been a few years since we last played them but they made us most welcome. The U13As faced a seasoned championship team who played an accomplished game, they were tough opponents and deserved their 9-35 win. The B team worked very hard, and in an absorbing game play went end to end. The girls worked really hard and were delighted with an 11-6 win.
On tour, off the pitch is always a great chance to build team spirit through lots of different activities. This year pupils visited Splashdown, the all-action, flume filled waterpark in Poole, went ten pin bowling, had time for shopping at Gunwharf Quays and of course enjoyed a competitive morning of games on the beach.
Tour leader, Hannah Carminati, commented, "There was plenty of learning for our sports teams this year and pupils made a lot of progress as they wound their way along the south coast. They were a really good group, impeccably behaved, they mixed well with their opponents and with each other, but what pleased us most was how enthusiastic our pupils all were. It made for a very successful tour."
Huge thanks go to the dedicated sports staff who accompanied this year's tour - Hannah Carminati, Mike Turns, Will Bower and Ellie Callan. And a big thank you of course to all the schools and sports clubs that hosted us; their hospitality was outstanding.