Sixth Form 'Wear It Pink' In Support Of Breast Cancer Charities
23 Oct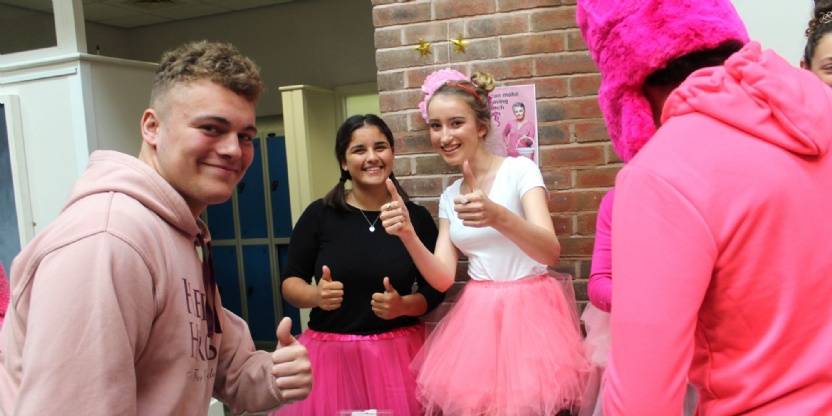 Princethorpe College's charity-minded Sixth Formers blitzed the last day of the half term with a magnificent array of pink costumes when the College celebrated its annual 'Pink Day'.
October was Breast Cancer Awareness month and, with one in eight women being diagnosed with breast cancer at some point in their lifetime, the Sixth Form #wearitpink to raise funds for Breast Cancer charities.
In true Princethorpe tradition, the Sixth Formers wholeheartedly embraced the theme and the Sixth Form Centre and College corridors were graced with fluffy pink costumes and onesies galore. Every pupil in the school made a cash donation for the non-uniform day and the coffers were swelled by a break time cake sale. The Sixth Form also laid on pay-as-you-go entertainment at lunchtime including leg-waxing, all to raise funds to support research into the disease.
Assistant Head of Sixth Form, Cyp Vella was delighted with the support students gave to the cause. "The Sixth Form are always keen to embrace a good cause and work hard to make it as successful and enjoyable as possible."
"We are still counting, but it looks likely that we will have raised well over £500 for breast cancer charities," commented Mr Vella. "Another successful fund-raising effort by the College community."