College Artists Recognised In Prestigious ISA Regional Art Competition
05 Nov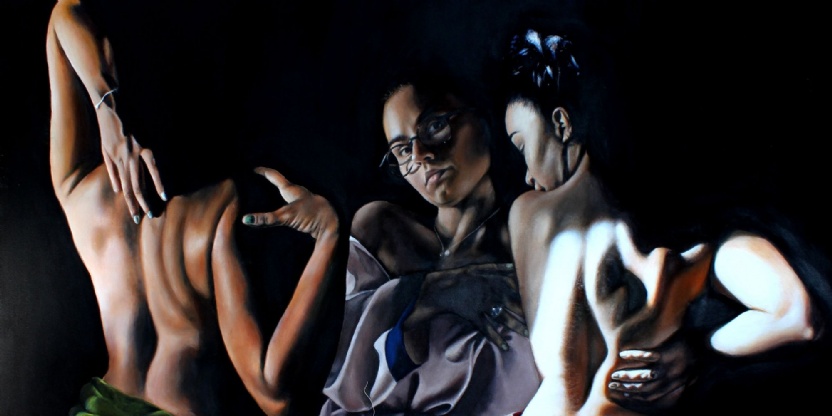 Recent Upper Sixth leavers, Helena Lintott and Fleur Street and Lower Sixth Former Sophie Cheshire have all been awarded first place in the Independent Schools' Association's prestigious Midlands Regional Art Competition.
Helena's stunning painting The Gift took first place in the coveted Over 16 Painting category, The Gift refers to the Three Graces who in Greek mythology are the personifications of beauty, charm, and grace; they were the daughters of Zeus and given these 'gifts' by him to bestow on the world. The piece will be instantly recognisable to anyone connected to the College as it has featured on the cover of the school's Pinnacle magazine. This is not the first time Helena has received recognition for her work as she also took first place two years ago in the Key Stage 4 Drawing Category.
Fleur's winning work was part of her A-level Photography portfolio, titled Candid Triptych, her striking portraits reflect the HIV crisis in the 1980s and the devastation it had without warning on the 'show-biz' world. The subjects are representations of three high profile personalities and artists who contracted and sadly died from this terrible disease.
Sophie took first place in the Key Stage 4 Textiles class. Her winning design project was also her GCSE piece and it used textures, sounds and colours to create a holistic aesthetic experience to help slow the development of Alzheimer's. Her work took an innovative approach and you can understand why it caught the judges' eyes. Sophie clearly has the makings of a talented designer. Sophie also took a second award in the competition receiving a Highly Commended in the Key Stage 4 3D category.
Further awards were given to Lower Sixth Formers, Damien Cowie who placed second in the Key Stage 4 Drawing category and Abi O'Carroll Bailey who came second in the Key Stage 4 Sketchbook class.
Princethorpe College Head of Art, Paul Hubball, applauded the winners, "These prizes reflect the talent we have within our school. There were plenty of excellent entries for the competition so we are very pleased to have so many winners."
All the first prize winners have now been entered into the ISA National Art Competition the judging for which is taking place this week.