Cawston Crowned U10 Football Champions In Princethorpe Primary Schools Tournament
19 Sep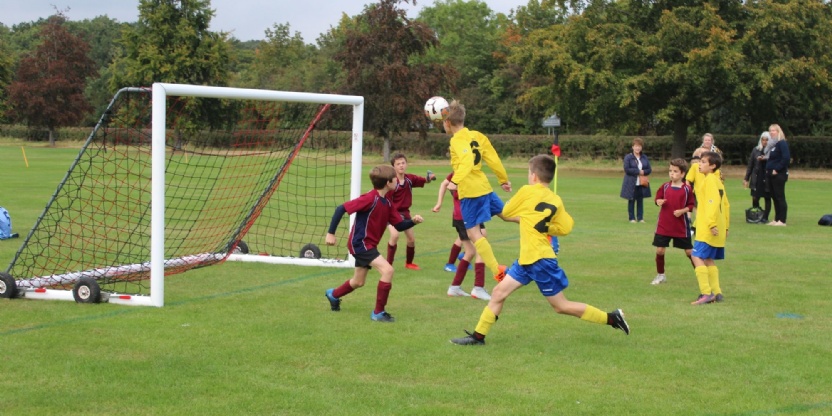 Princethorpe's primary school's sports programme kicked off early this year with a well-attended U10s football tournament in only the third week of term. Taking part were nine teams from local primary schools, who were all more than delighted to get out in the glorious autumn sunshine and enjoy the chance to play football on the College's pristine, playing fields.
Princethorpe's Primary School Sport Liaison Teacher, Hannah Carminati, masterminded the first event and had the teams straight out on to three pitches playing 12 minute, one-way matches. Split into two pools the teams started with a round-robin of games. Refereed by Princethorpe Sixth Form Sports Leaders, the mixed teams of girls and boys threw themselves into each game enjoying the opportunity to put their skills to the test in a competitive environment.
The coaches gave good side line support, shouting advice to their players whose enthusiasm was clear to see. Matches were fast paced and the teams focussed. The ball was moved skilfully up and down the pitch and there were plenty of shots at goal. At the end of the pool round the scores were added up and the teams then all finished with one final game playing their matching placing from the other pool.
Congratulations go to overall winners Cawston Grange Primary, who were delighted to go one better this year and take the title, and to St Augustine's Catholic Primary School and Crackley Hall School who came second and third respectively.
Miss Carminati enjoyed seeing all the talent on display commenting, "We had lots of positive feedback and the event was a real success. It was lovely to see the children having so much fun; they all deserve huge congratulations for their energy and enthusiasm. It was fantastic to have nine teams participating and to see everyone with a smile on their face."
Taking part in the tournament this year were teams from Crackley Hall School, Crescent School, The Croft Prep School, St John's Priory School, Cawston Grange Primary School, Our Lady's Catholic Primary School, St Augustine's Catholic Primary School, The Revel Church of England Primary School and Claverdon Primary School.
Our thanks go to all of the staff and pupils involved in the organising and running of the tournament and to the many parents who turned up to support the children.