Sun Shines For OPs Summer Supper
01 Jul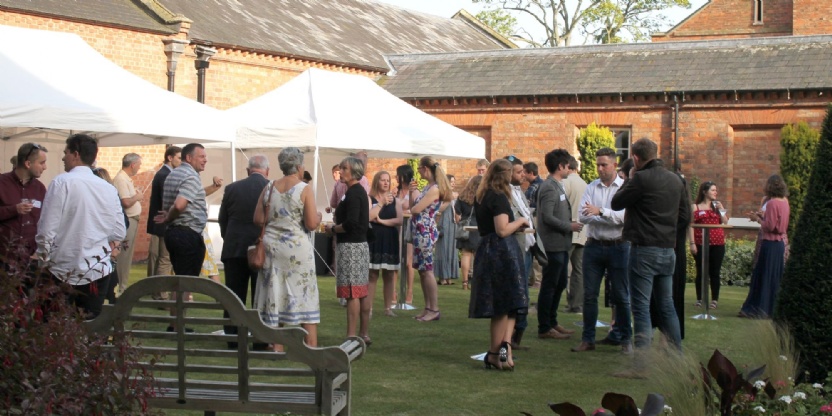 This year's Old Princethorpians' Summer Supper Reunion lived up to its name as the College basked in balmy summer sunshine on Friday 28 June.
This year's event was aimed specifically at the leavers of 1969, 1979, 1989, 1999 and 2009, celebrating their respective 50th, 40th, 30th, 20th and 10th anniversaries.
The Old Princethorpians had reached out to those OPs on its database by email, post and via Facebook and had a very positive response especially from the leavers of 2009, with nearly 20 from that year's Upper Sixth attending. There were also a small number of leavers from 1979, plus other years represented including guests who had flown in specially all the way from Hong Kong and Nice. The 80 or so guests also included the OPs Committee, former parents, former staff, staff who have worked at the College since 2007 and 2008 and staff who are leaving at the end of this academic year.
After an optional tour of school, ably-led by Alex Darkes and Eddie Tolcher, the guests gathered in the Quad for drinks, before moving to the Main Dining Room for a delicious three-course supper.
Following a very convivial meal, Headmaster, Ed Hester and OPs Chairman, Peter Rollason addressed the throng and as is tradition gifts were given to long-serving members of staff and those leaving us this year, including Greg Hunter, Suzy Ellis and Chris McCullough. As a finale to the evening, Alex Darkes or Mr Princethorpe as Headmaster, Ed Hester referred to him, was recognised for 40 years service and presented with a Fortnum and Mason hamper to a well-deserved and rapturous standing round of applause!
Commented OPs Chairman, Peter Rollason, "A good time certainly seemed to be had by all. It was particularly pleasing to see such a large number of leavers from 2009 celebrating their tenth anniversary with us and to hear how well they are doing.
"Next year's OPs Summer Supper Reunion will take place on Friday 26 June 2020 when we will be celebrating the leavers of 1970, 1980, 1990, 2000 and 2010. If you would like to come along please email oldprincethorpians@princethorpe.co.uk. Leavers of other years and partners are most welcome too.