Flagship Summer Open Evening Showcases College To Prospective Parents
06 Jun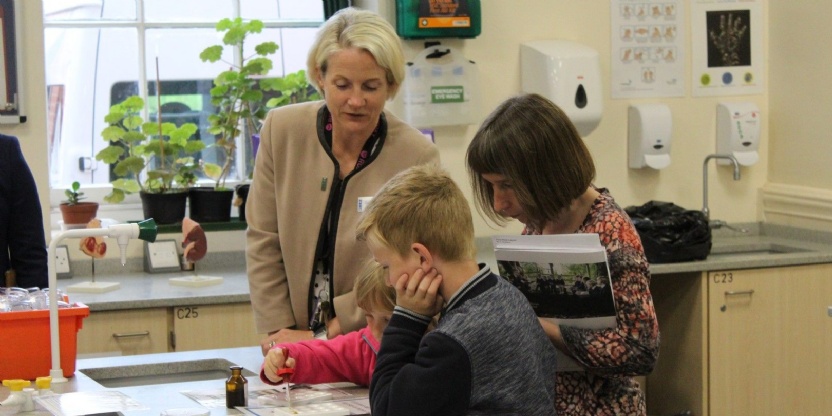 On Wednesday 5 June Princethorpe welcomed prospective parents and pupils into school for the College's flagship Summer Open Evening.
Bathed in sunshine the school and grounds looked their best and everywhere was a hive of activity. Departments had prepared informative displays and had plenty of exemplar work on show, staff and current pupils were on hand to take questions and talk with parents and of course there were plenty of fun subject-related activities for younger (and older) visitors to enjoy. Rewards were on offer for all those who 'had a go' with stickers to collect and a choice of Princethorpe prizes for the children to collect on their way home.
Outside many chose to try their hand at archery, explore the outdoor classroom, watch the tennis display or visit the Catteralls school bus. In the Sports Centre the climbing wall was a popular attraction, as was the bustling Limes atrium with its da Vinci display and refreshments. Elsewhere the classrooms were abuzz with parents and children exploring subjects such as IT, Maths, English and Languages.
Music entertained our visitors in the Chapel and the PALs drama rehearsals attracted audiences to the Clarkson theatre. Through the length and breadth of the school, visitors were invited to attempt a dissection in Biology, to taste mini pizzas in Food and Nutrition, to watch explosive Chemistry experiments or to delve into the archives in the Library.
Ed Hester, Headmaster, welcomed parents with an inspiring address, talking about the school, its plans for the future and the 'Spirit of Family' ethos that allows Princethorpe to help every child to succeed.
Some 140 families attended the evening, many completely new to the school. For all it was a great chance to soak up the special Princethorpe atmosphere and to get a flavour of day-to-day life. The sun shone brightly all evening and everywhere enthusiastic staff and pupils extolled the virtues of Princethorpe's tailored individual approach.
A huge thank you to all the staff, pupils, prefects and parents who helped on the evening and to those involved in the preparations. The school looked amazing and the feedback from our visitors as they left was very positive.