21 Princethorpians Presented With Duke Of Edinburgh Gold Award At Buckingham Palace
17 May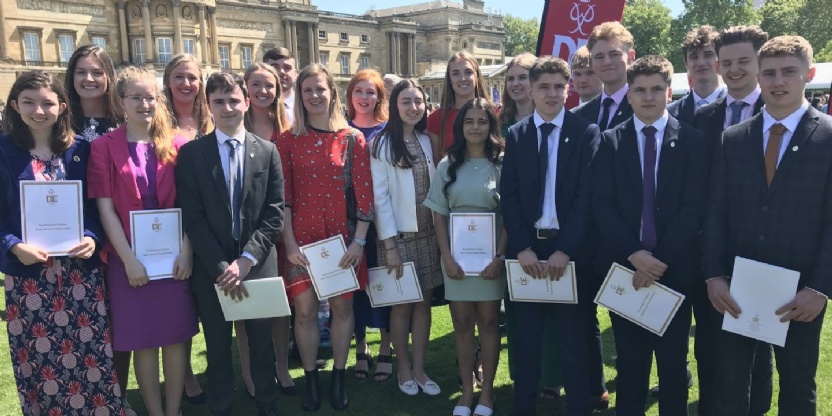 Last Monday 13 May 12 current Sixth Formers and 9 Old Princethorpians, were invited to Buckingham Palace in London to be presented with the Duke of Edinburgh Gold Award.
They joined 3,500 young people in a special ceremony in glorious sunshine, in the gardens of the Palace.
It will have taken over five years and 450 hours to have earned the Duke of Edinburgh Gold Award, progressing first through Bronze and then Silver until they finally achieved the challenging Gold. Along the way they have volunteered, learned new skills, taken part in physical activity, and for the Gold undertaken a week long residential, as well as planning and completing self-sufficient expeditions.
In turn the 21 were presented with their awards by explorer and adventurer Andy Bartlet who urged them to be proud and to keep making life memorable. After receiving their awards, the group then had the chance to meet and talk with Sophie, Countess of Wessex.
Head of Outdoor Education, Will Bower, was very proud, commenting, "Completing your Gold Duke of Edinburgh takes real commitment and resolve, and the skills developed along the way benefit both the individual and their local community. All of these young people showed dedication and perseverance and their final expedition to Buckingham Palace was a wonderful reward."
Receiving their Duke of Edinburgh Gold Award were:
Upper Sixth Formers
Imogen Blackhall
Meera Chauhan
Megan Harcourt
Alex Hutcheson
Eleanor Jennings
Megan Jones
Alexander Mackinnon
Aimee Sen-Gupta
Charlotte Silvester
Tom Warne
Christie Wukics
Tiarnan Wukics
Old Princethorpians
Georgina Bannister
Joseph Berry
Helen Busfield
Nathan Golsby-Taylor
Imogen Hornsby
Jessica Hornsby
Megan Lewis
James Tolcher
Edward Williamson