Molly McGrory Crowned Irish Dancing World Champion
15 May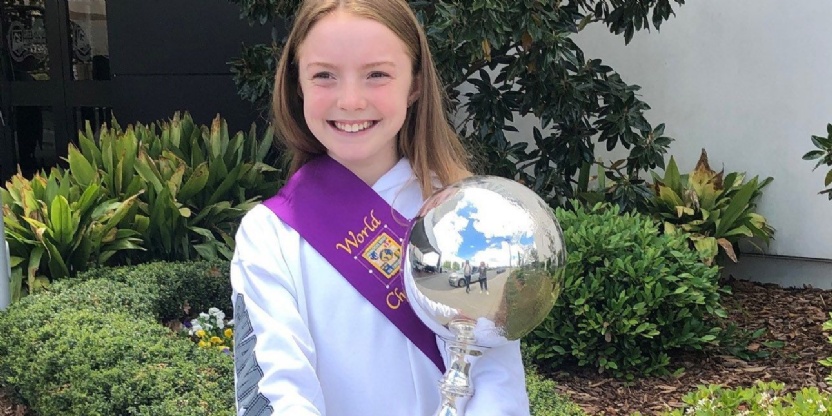 Huge congratulations to Princethorpe College Year 8 pupil, Molly McGrory who is Irish World Dancing Champion.
Molly joined thousands of elite competitors from across the world who descended on Greensboro in North Carolina, USA for the sport's pre-eminent event, the annual Irish Dancing World Championships. She stomped the floorboards and leapt into the air through a series of heats to get through to the final 50 and be acclaimed as the best in her age group in the world.
This was not the first time that Molly has entered the competition as she was also World Champion two years ago. This time dancing in the 12-13 age group, she was competing against dancers from across Ireland, the USA and even as far afield as Australia.
The competition took place from 14-21 April, and over a series of days each of the competitors initially performed two dances, the Hornpipe and the Reel, and were called back to perform their dances again, before the top 50 were called back for a third final performance, a set dance to their choice of music.
Molly's Mum and Foundation Trustee, Mrs Caroline McGrory says, "It was an absolutely fabulous week and we are so incredibly proud of Molly."
Molly, who trains at the Turley Duggan Academy of Irish Dancing in Birmingham, has been dancing since she was three-years-old and practices four days a week.
Molly said, "It was amazing when they announced 'and the World Champion is…' my heart leapt as I heard my name. I was so pleased to win; I train so hard, it takes so much dedication, so it really is fantastic to be World Champion again."
Ed Hester, Headmaster at Princethorpe College said, "It takes talent and huge dedication to become a world champion. We encourage all our pupils to work hard and do their best, Molly has taken this to the highest level and we are delighted to hear about her success."