Marathon Run For Malawi Expedition
30 Apr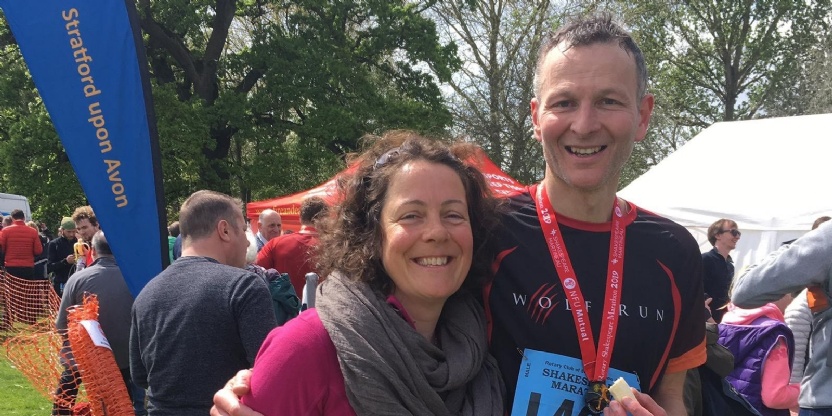 Princethorpe's very own marathon man, Assistant Head of Sixth Form, Rod Isaacs, completed the Shakespeare Marathon in an amazing time of four hours and 18 minutes.
Mr Isaacs joined 3,500 runners on a course that ran past Stratford-upon-Avon's many historical buildings and out into the Warwickshire countryside. The run took place on Sunday 28 April and the weather stayed dry and calm, Storm Hannah having blown herself out overnight.
Mr Isaacs commented, "The first half was great but then I hit the wall and my muscles seized up. Then it was 13 miles of heavy breathing and saying Jesus under my breath, as a prayer! It was such an amazing experience, there was a great atmosphere and camaraderie and the crowd was very supportive; I could even hear Sixth Form Administrator, Mrs Mitchell, ringing the bells at Holy Trinity Church, Shakespeare's Church, in support of all of the runners at the start."
Mr Isaacs is pictured with his wife Ann Marie who ran alongside him for the last mile of the race.
He continued, "Huge thanks to everyone who has supported my run, it really helped me keep going."
Mr Isaacs' marathon run was in support of Princethorpe College's expedition to Malawi in July 2020. There, a group of 23 pupils and five staff will work with Classrooms for Malawi at Lauderdale School. All of the group are fundraising to support the project, which will refurbish and redecorate classrooms to give the 2,500 pupils a suitable environment in which to learn.
You can find out more about the expedition and support the group's fundraising at https://www.justgiving.com/fundraising/malawi2020.