Princethorpe College Well Represented In U13 ISFA Football Regional Festival
09 Apr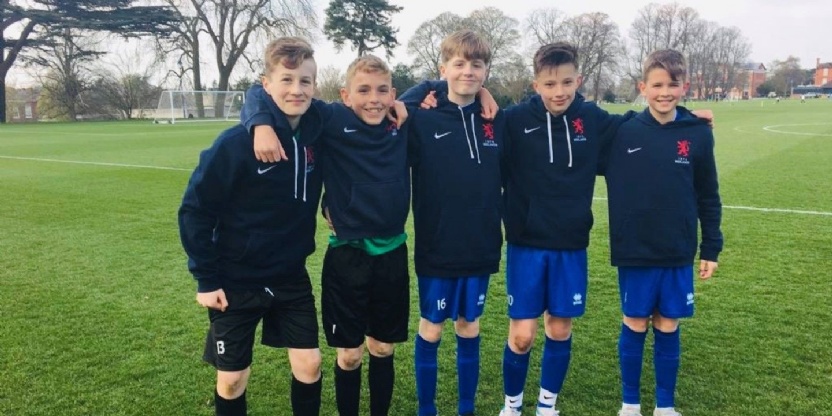 The 2019 Independent Schools Football Association (ISFA) U13 Regional Football Festival took place at Shrewsbury School between Saturday 6 and Monday 8 April 2019. Playing in the Midlands Regional Squad of 15 were five Year 8 boys, Joseph Bird, Alexander Hammond, Barnaby Hammond, Finn Osborn and Jamie Robinson.
Princethorpe's boys were pitched against representative teams from across the UK regions including teams from Hertfordshire & Essex, London, North West, East, South Central, South East and the South West. Shrewsbury School provided an excellent setting for the Festival with its outstanding facilities located on the banks of the River Severn.
As a football festival, the tournament was all about playing the game, so no results were formally recorded and there were no final winners but standards were high. Over the three days a total of 28 matches took place and 140 players took part.
All five Princethorpe boys played well, with the Midland's coach, Stuart Turpin commenting, "The boys played some good football and worked really hard even when tiredness was setting in. Off the pitch they were excellent value and a real credit to your school. In terms of games we beat the South West 2 - 1 and the East 3 – 0, we drew 0 - 0 with London and 1 - 1 with South Central and were defeated 2 - 1 by Herts and Essex, 4 - 3 by the South East and 3 - 0 in our final game against the North West. Even in defeat, the Midlands team were hugely competitive and could easily have won those games."
The boys now have to wait and see if they are selected for the A team to represent the ISFA nationally against the Welsh Schools in May or whether they make the squad of 50 players who will attend the training camps held during the summer holidays.
What a great experience for all the boys.