'Carpool Karaoke #FisherStyle' Takes Best Movie At The Princethorpe Oscars - The Hexalogy
22 Mar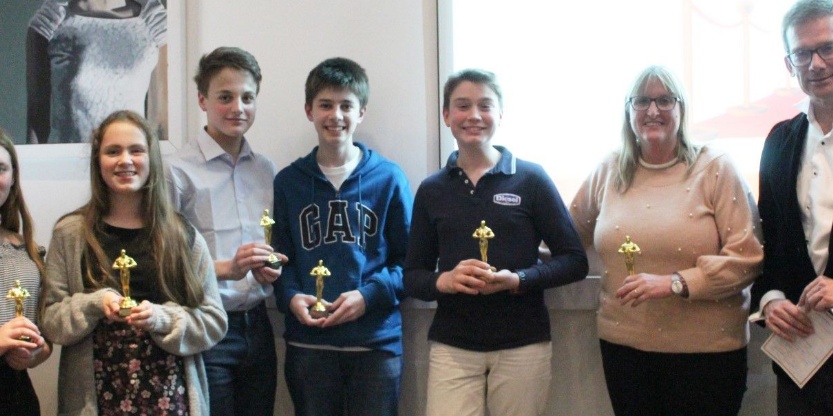 Each year Hollywood celebrates their prestigious Academy Awards, but here at Princethorpe College we have our 'night of nights', the Princethorpe Oscars, when the Sixth Form Atrium is transformed, and the red carpet is rolled out, to celebrate our very own shining stars.
This year 16 films, produced by pupils and staff, were up for consideration with the best of the best being awarded much-prized mini Oscars. Up for grabs were categories including Best Cliffhanger, Best Special Effects, Best Educational Film and Best Musical, as well as a new exciting category Best Health and Safety Film and of course, the most prestigious accolade of all, Best Movie.
Host and compere for the ceremony, Assistant Head – Co-curricular, Mr Greg Hunter, welcomed guests to a special VIP drinks reception before the evening's showing commenced and the audience sat back and the movies flickered onto the big screen. Judges for the night included Chuck Norris (Mr Compton), Meryl Streep (Dr Pyne) and Mr and Mrs Harrison Ford (Mr and Mrs Hester).
At the end of the premiere and before handing out the awards Headmaster, Ed Hester, commented, "What a wonderful evening, such a celebration of talent and creativity and such a wide range of entries. Our thanks go to all of the contributors and to Greg Hunter for organising this tremendous event."
The awards went to:
Best Feel Good Movie: Chloe O'Carroll Bailey and Abbbie O'Carroll Bailey (for Making Brownies)
Best Musical: BAR (for Wheels on the Bus)
Best Cliffhanger: FSR (for Finding Remo)
Best Fantasy Film: Sammy Carter, Georgia Davis, Katie Duigan, Lettie Gladwin, Alys Hemmings, Joe Hurworth, Jess Johnson, Henry King, Maya Spence and Matthew Walker (for Sixth Form Vlog)
Best Soundtrack: The Cowlishaw Clan (for It's Coming Home)
Best Editing and Technical Skills: Kitty Bonsor (for Snow White)
Best Stunts: Darcy Reeve (for School Box)
Best Production: Georgia Newborough and Mrs Newborough (for The Newborough's Make Up Tutorial)
Best Short Film: Olivia Rawle (for Dark Secrets of Benet House)
Best Documentary Teaser: Mr Parsons (for Living with Erb's Palsy)
Best International Film: MKD (for Chinese New Year)
Best Educational Film: Alys Hemmings, Ron Jacob Jaimon, Sophie Mitchell, Luke O'Kelly, Caitlin Parris, Maya Spence, Ryan Warwick, George Williamson, Fenton Woolf, Alex Wright and Mrs McBride (for A-Level Maths: A lesson from L6A/Ma1a)
Best Health and Safety Film: Mr Scopes (for At Home with The King)
Best Special Effects: Harry Fitzpatick and Louis Harper (for Lights Out)
Best Animation: Daisy Burke, Charlotte Fitzpatrick, Louise Gambling, Alice Minshull, Jemima Teeton and George Wild (for The Secret Life of Teachers)
Best Ensemble: Roualeyn Alford, Amy Hogg, James MacLean and many other Fisher staff and pupils (for Carpool Karaoke #FisherStyle)
The main award of the night Best Movie proved to be a difficult decision for the judges. In the end the stunning scenery in the drone footage, the enthusiasm and talent of the participants and the quality of the performance helped Mrs McCullough and her Fisher team claim the prize for the second year running.
It was another fabulous evening; thank you to all of the pupils and staff involved and watch out for next year when our film awards night returns - The Oscars - The Heptalogy.