Princethorpe Careers Fair 2018 Provides Insights Into Wealth Of Career Possibilities
30 Mar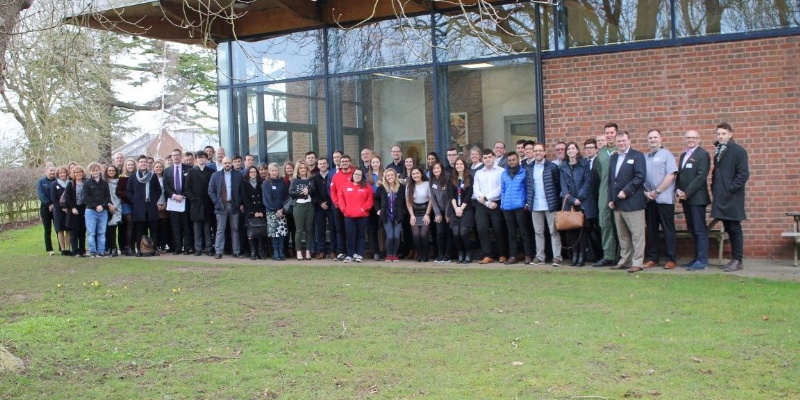 Despite the bitter, cold and wintry weather Headmaster, Ed Hester welcomed a capacity crowd of some 750 pupils, parents, staff and contributors to the College's fourth biennial Careers Fair on Saturday 17 March.
Over forty speakers, including current and former parents and Old Princethorpians, gave their time to present on a wide variety of careers and professions. From Accountancy and Law to Medicine, Engineering, Computing and TV and the Media, individual presentations gave pupil attendees the chance to consider careers, research jobs, listen to advice and ask questions.
The morning began with a keynote speech from guest speaker and Princethorpe parent James Hutcheson, Managing Director Finance and Administration for leading supermarket retailer, Aldi. Mr Hutcheson's introduction was full of inspiration and sound advice. He urged pupils to 'work out what makes you different', 'to prepare for your future' and 'to be clear about what you are going to do when you leave here'. He explained how aspirations can change, reassuring them that 'typically an individual will have 11 different jobs', often in different companies and different fields. He was full of the sort of sound, insightful and practical advice that only a top three Times 100 graduate employer can provide. He advised pupils to 'focus on what you can control', to identify 'what is your added value', and he concluded with a reflection on the quality of a Princethorpe education describing it as 'an opportunity not to be wasted'.
Thanking Mr Hutcheson, Ed Hester summed up with the hope that the Careers Fair would succeed in 'getting pupils on the right track' and with that the attendees were off for a fruitful morning of exploring careers, organisations, universities and life after the classroom.
Princethorpe's Sixth Form Atrium served as the hub for the morning with an exhibition full of employers, universities and Gap Year companies. This year the Sixth Form Theatre was a space dedicated to organisations such as IBM, Jaguar Land Rover and Rolls Royce, with representatives on hand to talk to interested pupils and parents about their apprenticeship programmes.
For many this was their first step on the career ladder and it enabled pupils to have a taste of some of the different sorts of career choices available to them. Feedback has certainly been very positive with parents and pupils commenting on how useful and informative the event was.
We are immensely grateful to all the Old Princethorpians, parents, contributors and staff who supported the Careers Fair and to the Careers Team for their organisation of the event.