Hannah's Poetry Takes Her To Passchendaele And The Palace
12 Nov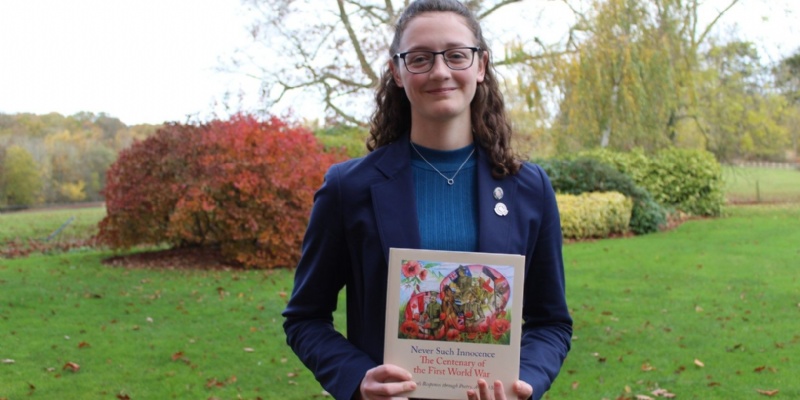 New Lower Sixth student, Hannah Owens, visited Buckingham Palace on Wednesday 7 November to attend the Never Such Innocence Finale. The event hosted by Vice Admiral Sir Tim Lawrence was a final commemoration and celebration of the charity's work to engage children and young people with the centenary of the First World War. It took place in the Palace's main ballroom which is normally reserved for investitures and state banquets and afterwards in the drawing room.
Hannah described the experience as "incredible and utterly surreal", and she was clearly honoured and amazed to have had such a remarkable opportunity. She continued, "At the finale we listened to readings and reflections on World War One through poetry, music and art, there were speeches from inspirational members of the armed forces and statements from the Prime Minister and Secretary of State for Defence."
Over the past four years Never Such Innocence have run international poetry and art competitions giving young people the chance to play their part in the formal centenary commemorations. Hannah submitted poems in 2015-16 and then again in 2016-17. Both times her work was recognised, the first time with a third place for Indefinitely Burdening, but then again in 2016-17 when her poem Dear Ivy earned her first place.
Following her win, in July 2017, Hannah was invited to attend the commemoration of the 100th anniversary of the Battle of Passchendaele. There, as part of the moving centenary commemoration, she read out her poem in front of the assembled dignitaries and guests.
Hannah has very kindly presented the College with a copy of Never Such Innocence's legacy anthology of work, The Centenary of the First World War.